Explore Egypt's Ancient Wonders on a 10-Day Tour Package
Embark on an immersive 10-day journey through the heart of ancient Egypt with One Nation Travel. Explore the unparalleled beauty and rich history of a civilization that has left an indelible mark on the world. From the architectural wonders of the pyramids and the allure of the Nile to the bustling markets and timeless landscapes, this meticulously crafted tour package offers a blend of cultural enrichment, historical insights, and serene relaxation. Guided by seasoned experts and staying at premium accommodations, you're bound to experience Egypt in a way you've never imagined.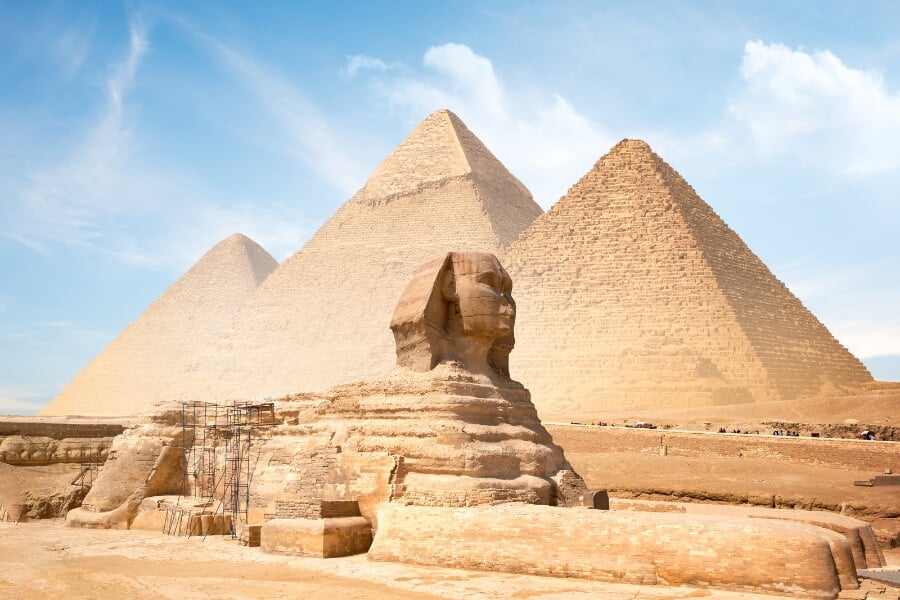 Day 1: Welcome to Cairo
Your Egyptian adventure starts the moment you land at Cairo International Airport. A One Nation Travel representative will be waiting to greet you, help with customs, and transport you to your hotel. Recharge and rest up for the adventures ahead.
Day 2: Giza's Grandeur
Embark on a journey to the iconic Pyramids of Giza, the eternal resting places of ancient Pharaohs. Marvel at the mysterious Sphinx, a guardian of secrets for over 4,500 years. Explore the historic sites of Sakkara and Memphis, and be immersed in stories of ancient dynasties.
Day 3: Luxor Bound
Fly to Luxor, a city steeped in history. Board your luxurious Nile cruise ship and prepare to sail through time. Begin with the East Bank treasures of Luxor and Karnak Temples, showcasing grandeur from the age of Pharaohs.
Day 4: Valley of Legends
Discover the West Bank of Luxor, a landscape of myths and legends. Unveil the stories of ancient rulers at the Valley of the Kings, and set sail to Esna by evening.
Day 5: Temples and Tales
Travel to Edfu and Kom Ombo. Explore the beautifully preserved Temple of Horus, and then discover the twin temples dedicated to the gods Horus and Sobek.
Day 6: Aswan Adventures
Aswan offers a plethora of historical gems. Experience the majestic High Dam, the Unfinished Obelisk, and the captivating Temple of Philae. Enjoy a serene felucca ride, soaking in the views of Elephantine Island and Kitchener's Island.
Day 7: Mystical Abu Simbel
An early start takes you to the magnificent Abu Simbel Temples. Return to Aswan and fly back to Cairo, where another chapter of your journey awaits.
Day 8: Alexandria's Antiquities
Discover the rich history of Alexandria. From the ancient Temple of Serapis to the Catacombs of Kom al Shuqafa and the iconic Qaitbay Fort, every site has a story to tell.
Day 9: Cairo Chronicles
Unearth Cairo's treasures at the Egyptian Museum. Wander through the historic Citadel and absorb panoramic views from the Mohamed Ali Alabaster Mosque. Experience local life at Khan El Khalili Market and enjoy a felucca ride on the Nile as the sun sets.
Day 10: Farewell, Egypt
After a final breakfast in Cairo, it's time to say goodbye. With memories to last a lifetime, you'll depart from Cairo International Airport, marking the end of your One Nation Travel Egyptian odyssey.
FAQs:
1. Is the flight from Cairo to Luxor included in the package? Yes, the domestic flight from Cairo to Luxor is included in the tour package.
2. Are meals provided during the tour? Breakfast is provided daily at the hotel. Lunches and dinners during the Nile cruise are also included. Specific meal inclusions are detailed in the day-to-day itinerary.
3. What kind of accommodations can I expect? All accommodations are premium hotels and cruise ships chosen for their comfort, location, and services.
4. Is this tour suitable for children? Absolutely! The tour is designed to be family-friendly. However, do note that certain historical sites might require extensive walking.
5. Do I need a visa for Egypt? Visitors from most countries require a visa to enter Egypt. It's recommended to check the Egyptian consulate or embassy in your country for specific visa requirements.
6. How much should I tip? Tipping is customary in Egypt. While the amount is at your discretion, a general guideline is to give 5-10% of the service cost.
7. Is it safe to drink tap water in Egypt? It's advisable to drink bottled water during your stay in Egypt. Bottled water is readily available and provided during your tour.
8. What's the dress code while visiting religious and historic sites? Respectful attire is advised. This generally means avoiding sleeveless tops and short skirts/shorts. Lightweight scarves are handy for covering shoulders when needed.
9. Is travel insurance included in the package? Travel insurance is not included but is strongly recommended. Please ensure you have comprehensive insurance covering health, travel, and other contingencies.
10. Can I customize my tour or add extra days? Yes, One Nation Travel is more than happy to assist with customizing your itinerary. Please contact us with your requests.