Jordan, a country steeped in history and natural beauty, offers a unique blend of ancient and modern. Whether you're an adventurer, a history buff, or someone looking to immerse themselves in a new culture, Jordan has something for everyone. In this comprehensive guide, we'll walk you through a 7-Day Jordan Itinerary that promises an unforgettable experience.
Day 1: Arrival at Queen Alia Airport – Amman
The moment you land at Queen Alia International Airport, you'll feel the warm Jordanian hospitality. Assistance will be provided for a smooth transition through customs and baggage claims. A short drive later, you'll find yourself at your hotel in Amman, the capital city. Take the evening to rest and acclimate yourself to the new time zone.
Day 2: Amman – Jerash – Ajloun – Amman City Tour
After a hearty breakfast, you'll head north to explore Jordan's lush landscapes. Your first stop is Jerash, one of the best-preserved Roman cities in the Middle East. Walk through the ancient ruins and feel the weight of history around you. Next, you'll visit Ajloun Castle, a fortress with panoramic views and a rich history. Finally, you'll return to Amman to explore the Citadel and other city landmarks before enjoying a traditional Jordanian dinner.
Day 3: Amman – Madaba – Mt. Nebo – Kerak – Petra
Day three is packed with historical and cultural gems. First, you'll visit Madaba, known for its stunning Byzantine mosaics. Don't miss the Madaba Map at Saint George's Church. Next, you'll head to Mount Nebo, where Moses is said to have seen the Promised Land. The day ends in Kerak, where you'll explore a Crusader castle that offers a glimpse into medieval military architecture. You'll spend the night in Petra, preparing for the next day's adventure.
Day 4: Petra – The Lost City
Petra, the "Lost City," is a wonder you have to see to believe. After breakfast, you'll spend the day exploring this UNESCO World Heritage site. Walk through the Siq to reach the Treasury, a jaw-dropping façade carved into the rose-red cliffs. The city offers numerous other archaeological sites to explore, so take your time to soak it all in.
Day 5: Petra – Little Petra – Wadi Rum
Day five starts with a visit to Little Petra, a smaller but equally fascinating archaeological site. Then, you'll head to Wadi Rum, also known as the Valley of the Moon. Here, you'll take a 4×4 Jeep tour to explore the stunning desert landscapes, followed by a cup of traditional Bedouin tea. Spend the night in a desert camp under the stars.
Day 6: Wadi Rum – Dead Sea
After breakfast, you'll drive to the Dead Sea, the lowest point on Earth. This is a day for relaxation. Float in the salty waters, slather yourself in mineral-rich mud, or simply enjoy the serene landscapes. Overnight at a Dead Sea resort.
Day 7: Dead Sea – Departure
Your Jordanian adventure comes to an end. After one last breakfast, you'll be transferred to Queen Alia Airport for your onward journey. You'll leave with memories to last a lifetime and perhaps plans to return.
Why should you choose One Nation Travel for Jordan tours?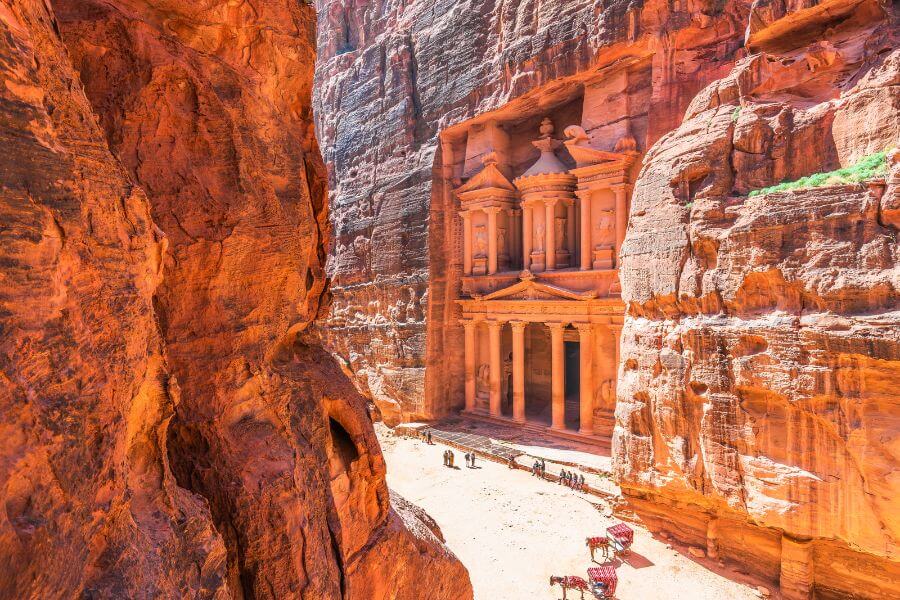 Expertise and Experience: With years of experience in the tourism industry, One Nation Travel has honed its services to offer top-notch experiences. Our team of experts is well-versed in crafting itineraries that offer a perfect blend of adventure, culture, and relaxation.
Global Presence: With offices in Princeton, NJ, and Istanbul, Turkey, we have a global footprint that allows us to serve a diverse clientele. This also enables us to maintain high standards of service and offer localized expertise.
Customizable Itineraries: We specialize in creating tailor-made tours that cater to your specific interests and needs. Whether you want to explore the ancient ruins of Petra or relax by the Dead Sea, we've got you covered.
Quality Accommodations: We have partnerships with some of the best hotels and resorts in Jordan, ensuring that your stay is as comfortable as it is memorable.
Multi-Destination Packages: In addition to Jordan, we also offer tours to other exotic locations like Turkey, Egypt, and more. This makes it easier for you to plan multi-country trips with a single, trusted provider.
Cultural Immersion: Our tours are designed to not just show you the sights but to immerse you in local culture and history. Our knowledgeable guides provide rich context and insights that you won't find in guidebooks.
Safety and Reliability: We prioritize your safety and well-being above all else. Our local guides are trained in first aid, and we always have contingency plans in place to deal with emergencies.
Competitive Pricing: Despite offering high-quality services, our tours are priced competitively, offering excellent value for money.
24/7 Customer Support: Our customer service team is available around the clock to assist you with any queries or issues you may have, ensuring a hassle-free experience from start to finish.
Sustainable Tourism: We are committed to responsible travel practices and aim to minimize our environmental impact while maximizing community engagement and economic benefits to local areas.
Choosing One Nation Travel for your Jordan tours means choosing a service that is reliable, comprehensive, and, above all, crafted with your enjoyment in mind.
FAQs
What is the best time to visit Jordan? The best time to visit Jordan is during the spring (March to May) and autumn (September to November) when the weather is pleasant.
Do I need a visa to enter Jordan? Most nationalities require a visa to enter Jordan, which can be obtained upon arrival for many countries.
Is Jordan safe to visit? Jordan is generally considered safe for tourists, but it's always advisable to check the latest travel advisories.
What currency is used in Jordan? The Jordanian Dinar is the official currency.
Can I drink tap water in Jordan? It's advisable to drink bottled or treated water.
What should I wear in Jordan? Modest clothing is recommended, especially when visiting religious sites.
Conclusion
Jordan offers a rich tapestry of experiences, from its ancient ruins to its modern cities, from its deserts to its seas. This 7-day Jordan Itinerary provides a balanced mix of history, culture, adventure, and relaxation. Whether it's your first time visiting or you're returning to explore more, Jordan never ceases to amaze and inspire.