Navigate Egypt's Seasons Like a Pro: Your Comprehensive Monthly Guide
Egypt, the land of pharaohs and pyramids, has captivated the hearts and minds of travelers for centuries. Yet, one question remains constant: What is the best time to visit Egypt? Timing can be a pivotal factor in determining the quality of your Egyptian adventure. This article aims to address that question comprehensively.
Experience a tailor-made adventure with One Nation Travel by booking one of our private Egypt tours. Don't miss out on our exclusive online booking promotions and additional perks.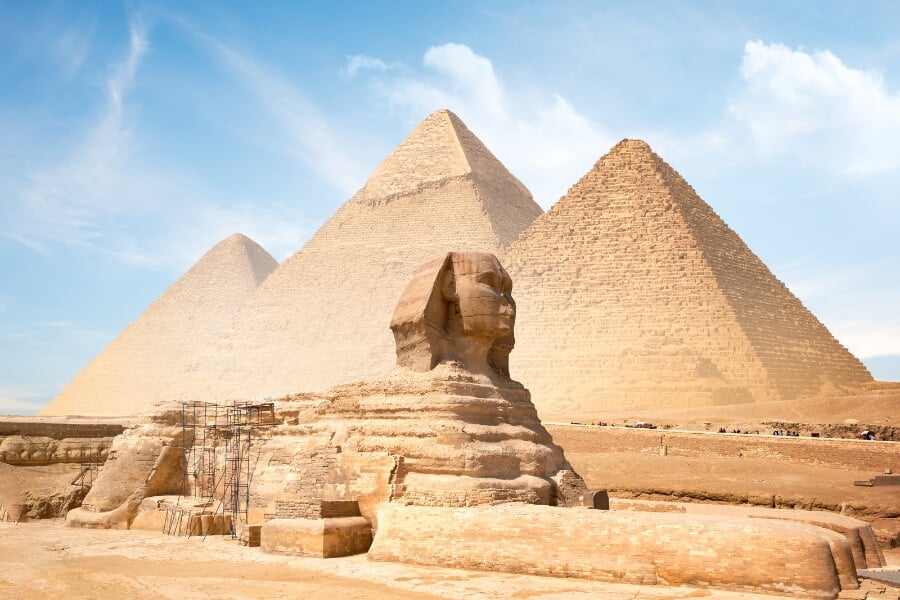 The Eternal Allure of Egypt
Egypt is a repository of ancient history, home to awe-inspiring pyramids, fascinating tombs, and a vibrant culture that melds the old and the new. The allure lies in its ability to transport you to a different time while offering modern amenities.
Importance of Timing in Your Egyptian Vacation
Timing plays a critical role in how you experience Egypt. From weather to festivals, each factor can impact your itinerary and budget in different ways. Knowing the best time to visit ensures you get the most out of your trip.
Best Time to Visit Egypt
The best time to visit Egypt is generally considered to be from October to April. These months offer pleasant weather and multiple opportunities for outdoor activities.
High Season: October to April
The Perks
During this period, Egypt experienced moderate temperatures, making it ideal for sightseeing, especially in cities like Cairo and Luxor. The country is alive with tourists, creating a bustling atmosphere.
Weather
The weather from October to April is neither too hot nor too cold, making it perfect for exploring Egypt's vast outdoor monuments.
Festivals
The high season also coincides with a number of major festivals like the Abu Simbel Sun Festival, offering a deep dive into Egypt's rich culture.
Costs
High demand results in a spike in accommodation and flight prices. Therefore, booking well in advance is recommended.
Low Season: May to September
Weather
The low season is characterized by sweltering heat. However, it offers an opportunity to explore Egypt without the crowds.
Festivals
Fewer festivals occur during the low season, but those that do are deeply cultural and less touristy.
Costs
Travel and accommodation are usually cheaper, allowing for a more budget-friendly trip.
Lesser Crowds
With fewer tourists, you'll have the luxury of exploring tourist spots at a leisurely pace.
Monthly Breakdown: January to December
Each month presents a unique set of factors that can influence your experience. January, for example, is perfect for budget travelers who don't mind slightly cooler temperatures. On the other hand, April is fantastic for those who want to witness the Sham El Nessim festival.
And so on for each month, with each offering its own unique advantages and disadvantages.
Adventure Activities and Their Ideal Months
For scuba diving, the Red Sea is an all-year destination. However, for hot air ballooning over the Valley of the Kings, the best time is from October to April. Desert safaris are most enjoyable in the cooler months.
FAQs
Is Egypt safe to visit?
Yes, Egypt is generally safe to visit, especially during the high tourist seasons.
What should I pack for a trip to Egypt?
Your packing list should vary depending on the season.
Are there any travel restrictions in Egypt?
It's always advisable to check the latest government advisories.
What are the key attractions in Egypt?
Pyramids, temples, and beaches are among the many attractions.
Is it advisable to visit Egypt during Ramadan?
Yes, but keep in mind the schedules and availability may differ.
How can I make my Egyptian vacation more sustainable?
Opt for eco-friendly lodgings and be mindful of your resource consumption.
Conclusion
Knowing the best time to visit Egypt is vital for planning a successful trip. From understanding weather patterns to recognizing peak seasons, this guide aims to provide you with a comprehensive view of what to expect each month. Plan wisely, and your Egyptian adventure will surely be one for the ages.