Cappadocia, located in central Turkey, is one of the most unique and beautiful destinations in the world. With its unique rock formations, caves, and fairy chimneys, it is a photographer's paradise. However, the best way to experience the beauty of Cappadocia is from the sky. A hot air balloon ride over Cappadocia is an unforgettable experience that will leave you in awe of the natural beauty of this region.
A Journey Through the Skies
The hot air balloon ride over Cappadocia starts early in the morning when the winds are calm and the sky is clear. The balloons take off from the valley and soar over the surreal landscape. As you rise higher and higher, the views become more and more spectacular. You can see the fairy chimneys, rock formations, and cave houses in all their glory, surrounded by the magnificent colors of the sunrise.
The ride is peaceful and serene, with only the sound of the wind and the occasional pop of the burners to accompany you. The hot air balloons are equipped with modern technology, making the flight safe and comfortable. The pilots are experienced and knowledgeable, and they will take you on a journey that you will never forget.
During the ride, you will have the opportunity to take some amazing photos and capture the beauty of Cappadocia from a unique perspective. Whether you are an amateur or professional photographer, you will find that the views from the balloon are simply stunning.
After the flight, you will be treated to a traditional Turkish breakfast, where you can enjoy some delicious local food and drinks, and share your experiences with your fellow passengers.
Tours and activities in Cappadocia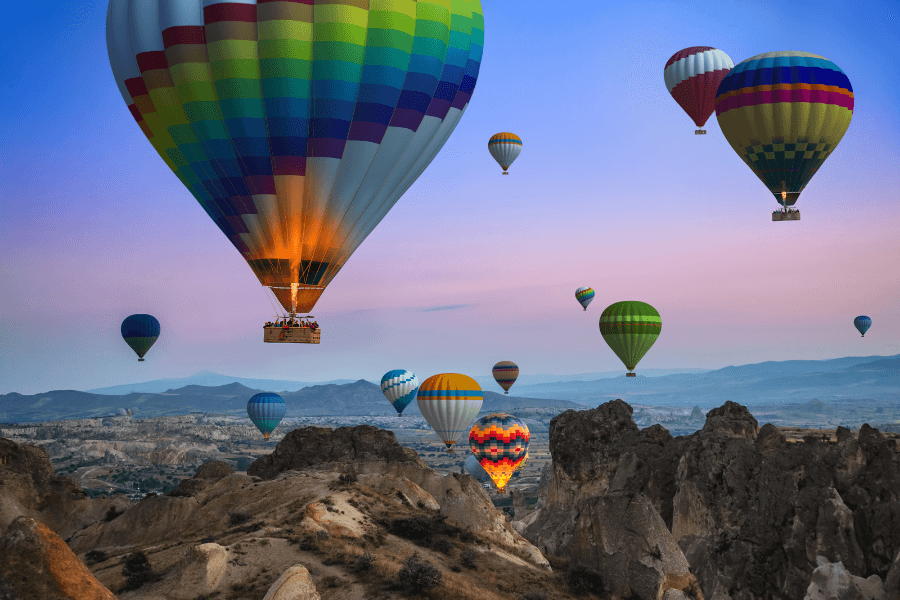 One Nation Travel presents a 2-Day Cappadocia Tour from Istanbul, featuring a hot air balloon ride. The package includes flight tickets, accommodation at a cave hotel, breakfast, and lunch. Take advantage of our best deals now!
In conclusion, a hot air balloon ride over Cappadocia is an experience that should not be missed. It is a unique opportunity to see this breathtaking region from a different perspective, and it is an experience that will stay with you forever. So, if you are planning a trip to Cappadocia, make sure to include a hot air balloon ride in your itinerary. You won't regret it!