The Ultimate Guide to Planning a Trip to Egypt
Embarking on a journey to the land of pharaohs and pyramids is undoubtedly an exciting adventure. Egypt, with its rich history, diverse culture, and breathtaking landscapes, offers countless opportunities for exploration and discovery. But how can you make the most of your visit to this enchanting destination? In this article, we'll guide you through the essential steps to planning your dream trip to Egypt.
Experience unforgettable, Tailor-Made Egypt Travel with top-rated guides. Explore iconic sites and hidden gems at your own pace while enjoying 5-star accommodations and personalized attention. Immerse yourself in Egypt's rich history and culture for a memorable adventure.
When to Visit Egypt
Best Time to Visit Egypt
The ideal time to visit Egypt is between October and April when temperatures are cooler, making it more comfortable to explore the ancient sites and monuments. However, it's important to note that this is also the peak season for tourism, meaning that popular attractions can be crowded, and prices may be higher.
Peak Season and Off-Peak Season
While visiting Egypt during the peak season has its advantages, off-peak travel (May to September) can also be rewarding. Although temperatures can be sweltering during the day, you'll experience fewer crowds and lower prices. Just be sure to pack appropriate clothing and stay hydrated!
Planning Your Itinerary
Must-Visit Attractions
A well-planned itinerary can make your trip to Egypt unforgettable. Some must-visit attractions include:
The Great Pyramids of Giza
The Sphinx
The Valley of the Kings
The Egyptian Museum
Luxor Temple
Karnak Temple
Abu Simbel
Remember, it's essential to allocate enough time to fully explore each site, as rushing through these historical treasures would be a disservice to their significance.
Exploring Off-the-Beaten-Path Destinations
While Egypt's famous landmarks are undoubtedly worth visiting, don't forget to explore lesser-known gems. Consider adding destinations like the Siwa Oasis, the White Desert, or the Red Sea coastal towns to your itinerary for a more well-rounded Egyptian experience.
Accommodations
Budget, Mid-range, and Luxury Options
Egypt offers a wide range of accommodations to suit every budget. From budget-friendly hostels and guesthouses to luxurious five-star hotels, you're sure to find the perfect place to rest your head after a long day of exploration.
Unique Stays
For a more authentic experience, consider booking a traditional Egyptian guesthouse, a Nubian village homestay, or even a night on a felucca (traditional sailboat) along the Nile.
Food and Dining Experiences
Traditional Egyptian Cuisine
Egyptian cuisine is a delightful mix of flavors and influences from various regions. Be sure to immerse yourself in the local food culture by sampling traditional dishes and visiting local markets.
Popular Dishes and Where to Find Them
Some popular Egyptian dishes you should try include:
Ful Medames – A staple breakfast dish made of fava beans, spices, and olive oil.
Koshari – A hearty, vegetarian street food classic consisting of rice, pasta, lentils, chickpeas, and tomato sauce.
Molokhia – A delicious soup made from jute leaves, garlic, and spices, typically served with rice or bread.
Shawarma – Thinly sliced meat (usually chicken or beef) wrapped in pita bread with various toppings.
You can find these dishes at local street food vendors, traditional cafes, and restaurants throughout Egypt.
Transportation
Getting to and Around Egypt
Most international flights arrive at Cairo International Airport, which offers multiple connections to other cities within Egypt. Domestic flights, buses, and trains are available for traveling between cities.
For a more leisurely and scenic experience, consider taking a Nile cruise from Luxor to Aswan, where you'll witness the breathtaking beauty of the Nile Valley.
Safety and Security
While public transportation is generally safe in Egypt, it's important to remain vigilant and keep an eye on your belongings. For added peace of mind, consider hiring a private driver or joining a guided tour.
Travel Tips
Cultural Etiquette
Respecting local customs and traditions is crucial when visiting any country. In Egypt, dress modestly, particularly when visiting religious sites. Be mindful of local prayer times and avoid photographing people without permission.
Health and Safety Precautions
It's essential to stay hydrated and protect yourself from the sun while traveling in Egypt. Pack sunscreen, a hat, and a reusable water bottle. Additionally, ensure you have comprehensive travel insurance and any necessary vaccinations before your trip.
Conclusion
A trip to Egypt is a once-in-a-lifetime experience that will leave you with unforgettable memories. By carefully considering the best time to visit, planning your itinerary, selecting accommodations, and being mindful of cultural etiquette and safety precautions, you can make the most of your adventure in the Land of the Pharaohs.
FAQs
Do I need a visa to visit Egypt? Most nationalities require a visa to enter Egypt. You can apply for an e-visa online or obtain a visa-on-arrival at the airport.
What currency is used in Egypt? The official currency of Egypt is the Egyptian Pound (EGP). It's recommended to carry some local currency for small purchases and tipping.
Is it safe to drink tap water in Egypt? It's best to avoid drinking tap water in Egypt. Stick to bottled or filtered water to stay healthy during your trip.
Can I use credit cards in Egypt? Credit cards are widely accepted in major cities and tourist areas. However, it's a good idea to carry some cash for small purchases and when visiting more rural locations.
What languages are spoken in Egypt? The official language of Egypt is Arabic. However, English is widely spoken in tourist areas and among younger generations.
Most popular Egypt Tours
Embark on a journey through Egypt's rich history with One Nation Travel's diverse tours. Visit iconic destinations like the Pyramids of Giza, the Great Sphinx, the ancient temples of Luxor, and the breathtaking Aswan Dam. Our Egypt tour packages also include hidden gems such as the Temple of Karnak, the Valley of the Kings, the Colossi of Memnon, and the Abu Simbel temples. Delve into the wonders of ancient Egypt and experience its allure firsthand with our expert-guided tours tailored to your interests and preferences.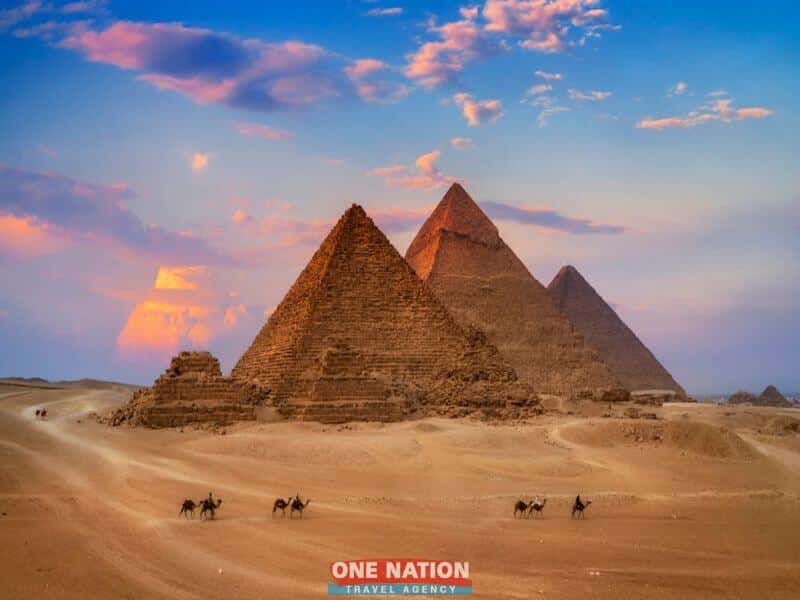 Egypt Tours
Egypt Tour Packages of tens of thousands of travelers' choice. All of these can be fine-tuned around your specific requirements. Get inspired from the sample tours below or let us customize an Egypt tour for you according to your interests. Tailor-Made Egypt Tours. Browse tour packages in Egypt and discover them now!