🔍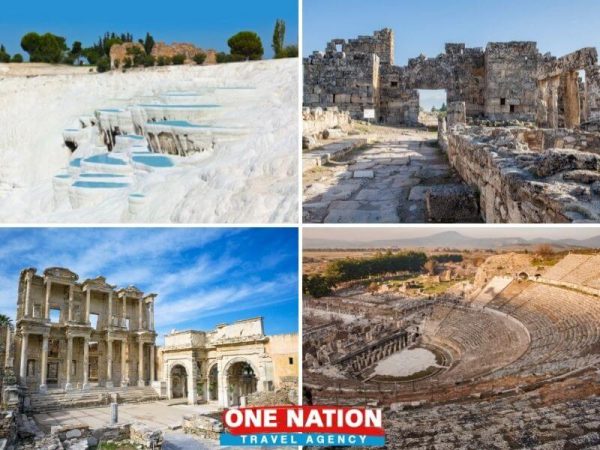 2 Days Pamukkale and Ephesus Tour from Cappadocia (By Overnight Bus)
$280.00 per person
On this 2-days and 1-night tour which includes an overnight bus from Cappadocia, you will visit Pamukkale and Ephesus over two full-day tours which will cover all the major highlights of this area. This tour will start from Cappadocia and will end in Kusadasi or Izmir.
Obtain your tour price by selecting tour dates and specifics below:
2-Day Pamukkale & Ephesus Tour from Cappadocia by Bus
(Tour starts from Cappadocia and ends in Kusadasi or Izmir)
---
Day 1:

Overnight Bus to Pamukkale

Late evening you will be transferred to the bus station to take your overnight bus departing at 9.00 pm to Pamukkale. The total duration of travel will be 10 hours. There will be three breaks on the way to Pamukkale for your personal needs. You will arrive in Denizli at the bus station in the morning the next day. Note: During your transfer on the local bus, you will be unaccompanied and touring services will start once you have met your local tour guide upon arrival at the destination.
Accommodation: No accommodation is included on this day.
Included Meal(s): No meals are included on this day
Day 2:

Pamukkale & Hierapolis Tour, Kusadasi

Upon your arrival at the Pamukkale / Denizli main bus station between 05:30 – 06:00, you will be picked up and transferred to your hotel to freshen up. You will have time to have breakfast and a short rest. Around 9:30 am you will be picked up from the hotel to begin your guided tour of the Pamukkale and Hierapolis area with a professional licensed tour guide. Around 10:00 you will visit the first destination of Karahayit to see the Red Spring Waters. After Karahayit we will drive to Pamukkale and begin the visit to the ancient city of Hierapolis around 10:30 am. The highlights of Hierapolis are Necropolis, Roman Baths, Domitian Gate, Latrina, Oil Factory, Frontinious Street, Agora, Byzantium Gate, Triton Fountain, Cathedral, Apollon Temple, Plutonium, Theater, and Antique Pool. You will also be able to take some photos from the nicest corners of Pamukkale. Around 12:30 pm you will be given some free time for approximately 60 minutes to explore the natural beauties of Pamukkale. As an option, you may choose to swim in the Pamukkale Antique Pools (at your own expense) during this free time. At 1:30 pm you will meet the guide and will get a chance to walk in the middle of the Pamukkale travertines from top to down without shoes and socks. At 2:30 pm you will be taken for lunch at a local restaurant. After lunch at approximately 3:30 pm, you will visit an Onyx Factory for approximately 30 minutes. At the end of the tour around approximately 4:00 pm, you will begin your drive to Kusadasi (approximately 3 hours). We will drop you at your hotel in Kusadasi.
Overnight in Kusadasi
Included Meal(s): Breakfast and Lunch
Day 3:

Ephesus Tour

After breakfast at the hotel around 08:30, you will be picked up and met by your tour guide to begin your full-day tour of Ephesus. Your tour guide will brief you on the day's activities. You will first visit the Temple of Artemis which was once one of the Seven Wonders of the ancient world. Next, you will visit the world famous ancient Greco- Roman City of Ephesus, the most well-preserved example in the world. After visiting this impressive site, you will have a break for lunch. After lunch, you will visit the House of Virgin Mary, where it is believed she spent her last days. This is a holy place for both Christians and Muslims. Afterwards, you will visit the Isabey Mosque. Next, you will be taken to the Sirince Village; which is an old Greek village and is well-know for its quaint beauty and wine tasting and production. Here you will have one hour free to explore on your own without a guide the different foods and wines of the area and visit various small traditional village shops.

There are two available options at the end of the Ephesus tour.

Option 1: You can end your tour in Kusadasi. This will be the end of our service.
Option 2: You can choose to be transferred to Izmir Airport to take a domestic or International flight or be transferred to the Kusadasi or Izmir main bus station to take a bus to another destination e.g. Bodrum, Marmaris, Antalya, Fethiye and Istanbul. The cost of the domestic flight ticket or bus ticket for your onward journey is not included. If you want we can arrange a domestic flight or bus ticket for you at an extra cost for your chosen next destination within Turkey. This will be the end of our tour service.
Included Meal(s): Breakfast and Lunch
INCLUDED in the Tour Price:
All transfers mentioned in the itinerary
Overnight intercity coach ticket (Cappadocia to Pamukkale)
1 night in Kusadasi at a 4-star hotel including breakfast
Professional licensed English speaking guide during the tours
Meals as mentioned in the itinerary: (B) breakfast, (L) lunch
Entrance fees mentioned by the itinerary
Local taxes and service charges
NOT INCLUDED:
End of the Tour in Ephesus on Day 3, bus and/or flight tickets are not included
Tips to staff, items of a personal nature
Travel insurance (recommended).
IMPORTANT INFO:
This is a regular group tour, but if requested at cost can be provided as a private tour
The regular group tour has shopping stops included in the tour
Vegetarian lunch option available upon request
On Day 3 the tour finishes at approximately 4:00 pm. You have the option to be dropped off directly to the Izmir airport, Izmir bus station or in Kusadasi / Selcuk area. This will be the end of our tour service
You can swim in the Antique pool in Pamukkale. However, please note that there is an extra charge that you will have to pay directly at your own expense before entry to the pools. This entrance fee to the pools is not covered as part of your tour. Please note that you must bring your own towel, swimsuit etc. if you need to use the pools.
Accommodation in below Hotels (or similar hotels depending on vacancy at the time of booking):
In Kusadasi: Derici Hotel OR Efe Boutique Hotel OR Ilayda Avantgarde Hotel
The quoted price of this tour covers accommodations in hotels as mentioned above or in similar quality hotels.
If you wish to include a higher quality hotel, we offer two options:
Option 1: We can upgrade your hotel at an additional cost. This cost will be added to the total tour price of the standard package tour.
Option 2: You can arrange your own accommodation on the tour as per your preference. We can offer a new package tour price without including cost of hotel accommodation. If Option 2 is preferred, all services as part of the package tour will be provided except for hotel accommodation.
Please let us know the option you prefer at the time the tour request is made so that we can price the tour accordingly. If no change in hotels is needed and you wish to proceed with the hotels highlighted in our package tour at the quoted tour price then you may book the tour directly online.