🔍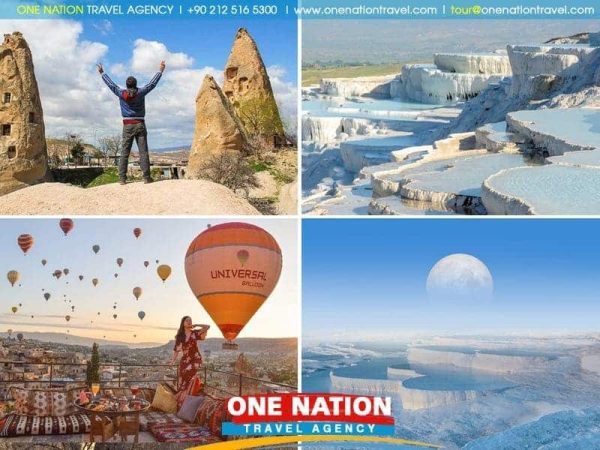 3-Day Cappadocia and Pamukkale Tour from Istanbul by Plane
$610.00 per person
Visit Cappadocia and Pamukkale the two most popular destinations in Turkey from Istanbul by plane in 3 days and 2 nights. Your tour will include a stay at the cave hotel in Cappadocia and the thermal spa hotel in Pamukkale. The tour will cover the highlights of the North and South Cappadocia tour and will also include a visit to Pamukkale and Hierapolis. A professional licensed English-speaking tour guide will provide guiding services during tours in Cappadocia and Pamukkale.
Obtain your tour price by selecting tour dates and specifics below:
Day 1:

Flight to Kayseri/Nevsehir — Full Day North Cappadocia Tour

You will be picked up from your hotel in Istanbul around 4:30 am and will be transferred to the domestic airport for your flight from Istanbul to Kayseri or Nevsehir between 6:00 – 7:30 am. Upon arrival at Kayseri or Nevsehir airport, you will be picked up and transferred to Cappadocia. In Cappadocia, you will meet your professional tour guide to begin your full-day tour of North Cappadocia. Your tour will start with a visit to the Devrent Valley to see the unique fairy chimneys. Next you will visit the Pasabag Monk's Valley to see the mushroom-shaped pinnacles. After this visit, you will drive to the city of Avanos. After lunch, you will visit the beautiful open-air museum of Goreme where the remains of rock-cut churches and Christian settlements date back hundreds of years. Finally towards the end of the day tour before returning to your hotel, you will be able to visit the natural castles of Uchisar. After the tour, you will be transferred to your hotel in Cappadocia for check-in.
Overnight in Cappadocia
Included Meal(s): Lunch
Day 2:

Full Day South Cappadocia Tour — Flight to Denizli

After breakfast at the hotel around 9:30 am you will be picked up and met by your tour guide to begin your full-day tour of South Cappadocia. Your tour guide will brief you on the day's activities. Your tour will begin with a visit to the Red Valley where you will be able to explore the famous rock-cut churches and hike approximately 5 km through the Güllüdere (Rose) Valley. Next you will visit Çavusin village which is famous for its houses and churches of the Christian Clergymen. We will take a break for lunch around noon. After lunch, you will drive to the Pigeon Valley. In the afternoon you will visit the Kaymakli underground city where early Christians lived. This will be the end of your full-day tour. At the end of the South Cappadocia tour, you will be transferred to the Kayseri airport for your 7:00 pm flight via Istanbul to Denizli which will arrive in Denizli at 1:00 am. Upon your arrival, you will be picked up and transferred for check-in to your hotel in Pamukkale.
Overnight in Pamukkale
Included Meal(s): Breakfast and Lunch
Day 3:

Full Day Pamukkale and Hierapolis Tour — Fly back to Istanbul

After breakfast at the hotel around 9:30 am you will be picked up from the hotel to begin your guided tour of the Pamukkale and Hierapolis area with a professional licensed tour guide.

Around 10:00 you will visit the first destination of Karahayit to see the Red Spring Waters. After Karahayit we will drive to Pamukkale and begin the visit to the ancient city of Hierapolis around 10:30. The highlights of Hierapolis are Necropolis, Roman Baths, Domitian Gate, Latrina, Oil Factory, Frontinious Street, Agora, Byzantium Gate, Triton Fountain, Cathedral, Apollon Temple, Plutonium, Theater, and Antique Pool. You will also be able to take some photos from the nicest corners of Pamukkale. Around 12:30 you will be given some free time for approximately 60 minutes to explore the natural beauties of Pamukkale. As an option, you may choose to swim in the Pamukkale Antique Pools (at your own expense) during this free time. At 1:30 pm you will meet the guide and will get a chance to walk in the middle of the Pamukkale travertines from top to down without shoes and socks.  At 2:30 pm you will be taken for lunch at a local restaurant. After lunch at approximately 3:30 pm, you will visit an Onyx Factory for approximately 30 minutes.

At the end of the tour around approximately 4:00 pm, you will be transferred to the Denizli or Izmir airport for a late evening flight back (between 7:00 – 10:00 pm) to Istanbul. END OF OUR SERVICE and TOURS.
Included Meal(s): Breakfast and Lunch
Accommodation: No accommodation is included on this day.
Important notes:
Please note that your return flight from Denizli / Izmir to Istanbul will arrive at either the New Airport in Istanbul or at the Sabiha Gökçen Airport depending on the availability of flights on the ticket purchase date.

If you have a preference to return to a specific airport in Istanbul i.e. Sabiha Gokcen or Istanbul New Airport, you must request your choice of the airport in Istanbul by email prior to your tour booking. Any changes requested once your booking is confirmed will incur an additional cost.

Upon arrival at Istanbul airport, you will have to arrange your own pick-up service from Istanbul airport to your hotel in Istanbul. This transfer is not included as part of your package tour services with us. Our service ends upon your flight arrival at Istanbul Airport.
INCLUDED in the Tour Price:
Pick up from Istanbul hotel and transfer to Istanbul Airport (on the European side of Istanbul only)
Domestic flight tickets as per the itinerary
2 nights hotel with breakfast
3 lunches
Professional licensed English speaking guide during the tours
Entrance fees mentioned by the itinerary
Transport by air-conditioned Vehicles
Local taxes and service charges
NOT INCLUDED:
Drop off transportation service from Istanbul New Airport OR Sabiha Gökçen Airport to Istanbul Hotel upon returning to Istanbul
Optional tours mentioned in the program, they will be provided at an additional cost.
Services not mentioned in the program.
Drinks with meals.
Travel insurance (recommended).
Important Info:
This is a regular group tour, but if requested at cost can be provided as a private tour
The regular group tour has shopping stops included in the tour
Vegetarian lunch option available upon request
You can swim in the Antique pool in Pamukkale. However, please note that there is an extra charge that you will have to pay directly at your own expense before entry to the pools. This entrance fee to the pools is not covered as part of your tour. Please note that you must bring your own towel, swimsuit etc. if you need to use the pools.
 The normal arrival time in Istanbul is between 8:00 – 10:00 pm. If you are planning on reserving your plane back home that same day, we recommend you book a plane ticket from 12:30 am onwards, to avoid missing your flight.
WHEN TO BOOK?
Book as soon as possible to guarantee availability, especially during public holidays and festivities.
You can book up to 2 days before (Istanbul local time) if there are still places available. If less than 2 days before start of your requested tour date, please contact us by email or phone as it would be a last-minute booking that will need to be checked for availability before your tour reservation is confirmed.
You will stay in 4-Star and Cave hotels throughout your tour. You will stay for one night at the Flintstones Cave Hotel or Heaven Cave House, or similar, in Cappadocia, one night at the Colossae Thermal Hotel or Pam Thermal Hotel, or similar in Pamukkale.