🔍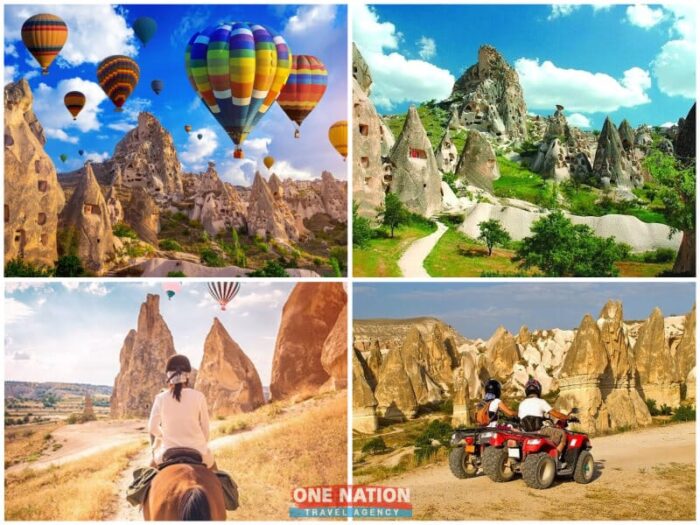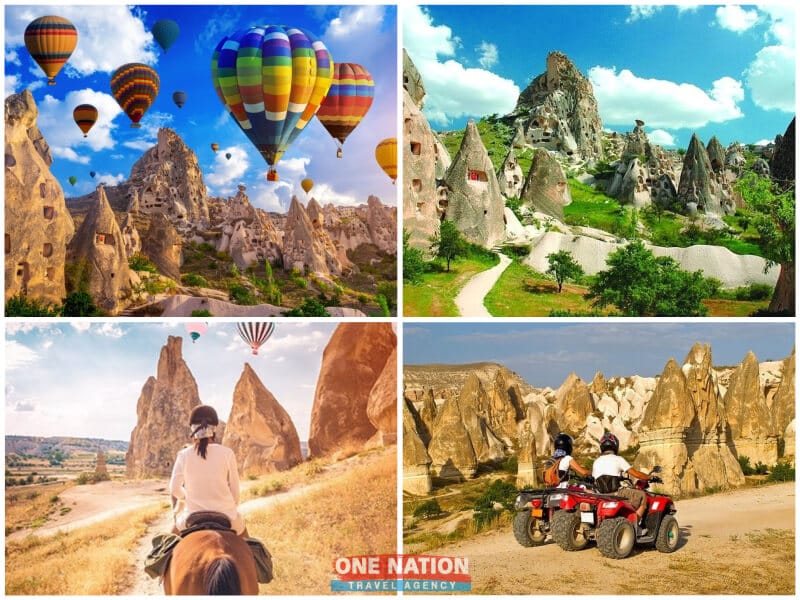 3 Days Cappadocia Adventure Tour from Istanbul
$360.00 per person
Discover the otherworldly wonders of Cappadocia on this immersive 3 days Cappadocia adventure tour from Istanbul. This tour is designed to make your travels hassle-free and informative. Explore Cappadocia's stunning terrain on a hike through the Rose Valley, admire fairy chimneys, blue skies, and houses that have been carved into the sides of mountains at Çavuşin and the UNESCO-listed Göreme Open-Air Museum. Rest in comfort at a local hotel, included in the tour. If you choose, upgrade your trip by opting in for an unforgettable hot air balloon ride over Cappadocia.
Obtain your tour price in USD by selecting tour dates and specifics below:

Day 1:

Flight from Istanbul to Cappadocia — Full Day North Cappadocia Tour

You will be picked up from your hotel in Istanbul around 4:15 am and will be transferred to the domestic airport for your flight from Istanbul to Kayseri or Nevsehir between 6:00 – 7:30 am. Upon arrival at Kayseri or Nevsehir airport, you will be picked up and transferred to Cappadocia. In Cappadocia, you will meet your professional tour guide to begin your full-day tour of North Cappadocia. Your tour will start with a visit to the Devrent Valley to see the unique fairy chimneys. Next, you will visit the Pasabag Monk's Valley to see the mushroom-shaped pinnacles. After this visit, you will drive to the city of Avanos. After lunch, you will visit the beautiful open-air museum of Goreme where the remains of rock-cut churches and Christian settlements date back hundreds of years. Finally towards the end of the day tour before returning to your hotel, you will be able to visit the natural castles of Uchisar. After the tour, you will be transferred to your hotel in Cappadocia for check-in.
Overnight in Cappadocia
Included Meal(s): Lunch
Accommodation: Overnight at the cave room in Cappadocia
Day 2:

Full Day South Cappadocia Tour — Optional Early Morning Hot Air Balloon Ride — Optional Evening ATV Tour

You may add an optional Hot Air Balloon Ride over picturesque Cappadocia to your tour at an extra cost of USD 360.00. With an early morning pick up around 5:00 am from your hotel you can join an early morning Hot Air Balloon ride for approximately 60 minutes. If interested, please request at the time of booking your tour with us and we can make all necessary arrangements on your behalf!

After breakfast at the hotel around 9:30 am, you will be picked up and met by your tour guide to begin your full-day tour of South Cappadocia. Your tour guide will brief you on the day's activities. Your tour will begin with a visit to the Red Valley where you will be able to explore the famous rock-cut churches and hike approximately 5 km through the Güllüdere (Rose) Valley. Next, you will visit Çavusin village which is famous for its houses and churches of Christian Clergymen. We will take a break for lunch around noon. After lunch, you will drive to the Pigeon Valley. In the afternoon you will visit the Kaymakli Underground City or Ozkonak Underground City where early Christians lived.

Your full-day South Cappadocia tour will end around 4:00 pm. As an option, we highly recommend trying the 2-hour evening ATV tour in Cappadocia.

Option 2: Evening ATV Tour (2 hours) in Cappadocia

Enjoy an off-the-beaten-path ATV (quad) bike Goreme Tour. This will be approximately 2.5 hours long and your ATV will zip through many beautiful hills, fairy chimneys, valleys, dunes, and trails of the Cappadocia landscape. Your tour guide will ride on a separate vehicle and will show you the way to go. The tour includes the use of ATV equipment and pick-up and drop-off transfers.

ATV Tour including the use of equipment: USD 70.00 per person.
Overnight in Cappadocia
Included Meal(s): Breakfast and Lunch
Accommodation: Overnight at the cave room in Cappadocia
Day 3:

Free Day — Optional Horseback Riding Experience — Evening Flight to Istanbul

After breakfast, you will have a free day in Cappadocia. As an option, we highly recommend trying the 2-hour Horseback Riding tour in Cappadocia.

Option: Horseback Riding Experience (2 hours) in Cappadocia

Enjoy riding a horse through the breathtaking valleys of Cappadocia, also known as the 'Land of beautiful horses. The lunar landscape of Cappadocia with its unusual rock formations is ideal for exploring it on horseback for a truly memorable experience.  You may join this 2-hour long tour either starting at 10:00 am or at 1:00 pm. Pick up and drop transfers and equipment such as helmets are included.

Horseback Riding Experience including equipment such as helmet: USD 60.00 per person.
Included Meal(s): Breakfast
Important notes:
Please note that your return flight from Kayseri / Nevsehir to Istanbul will arrive at either the New Airport in Istanbul or at the Sabiha Gökçen Airport depending on the availability of flights on the ticket purchase date.

If you have a preference to return to a specific airport in Istanbul i.e. Sabiha Gokcen or Istanbul New Airport, you must request your choice of the airport in Istanbul by email prior to your tour booking. Any changes requested once your booking is confirmed will incur an additional cost.

Upon arrival at Istanbul airport, you will have to arrange your own pick-up service from Istanbul airport to your hotel in Istanbul. This transfer is not included as part of your package tour services with us. Our service ends upon your flight arrival at Istanbul Airport.
INCLUDED in the Tour Price:
Pick up from Istanbul hotel and transfer to Istanbul Airport (on the European side of Istanbul only)
Domestic flight tickets from Istanbul to Kayseri or Nevsehir and from Kayseri or Nevsehir to Istanbul only
2 nights accommodation at a cave hotel with breakfast in Cappadocia
Professional licensed English-speaking guide during the tours
Meals as mentioned in the itinerary: (B) breakfast, (L) lunch
Entrance fees mentioned by the itinerary
Local taxes and service charges
NOT INCLUDED:
Drop off transportation service from Istanbul New Airport OR Sabiha Gökçen Airport to Istanbul Hotel upon returning to Istanbul
Horseback Riding Experience
ATV Tour
Optional tours mentioned in the program, they will be provided at an additional cost.
Services not mentioned in the program.
Drinks with meals.
Travel insurance (recommended).
WHAT TO BRING:
IMPORTANT INFO:
This is a regular group tour, but if requested at cost can be provided as a private tour
The regular group tour has shopping stops included in the tour
The order of the itinerary is indicative and subject to change, but all visits described will take place.
Vegetarian lunch option available upon request
The normal arrival time in Istanbul is between 8:00 – 10:00 pm. If you are planning on reserving your plane back home that same day, we recommend you book a plane ticket from 12:30 am onwards, to avoid missing your flight.
The hot air balloon ride operates in optimum weather conditions. The decision for the flight to take off on any given day is decided by the local government at the last minute depending on weather conditions to ensure passenger safety. If your paid and scheduled hot air balloon ride gets canceled by the tour company at the last minute for weather conditions, we will provide you with a refund of USD 360.00 for the hot air balloon ride if you have it booked with us.
WHEN TO BOOK?
Book as soon as possible to guarantee availability, especially during public holidays and festivities.
You can book up to 2 days before (Istanbul local time) if there are still places available. If less than 2 days before start of your requested tour date, please contact us by email or phone as it would be a last-minute booking that will need to be checked for availability before your tour reservation is confirmed.