🔍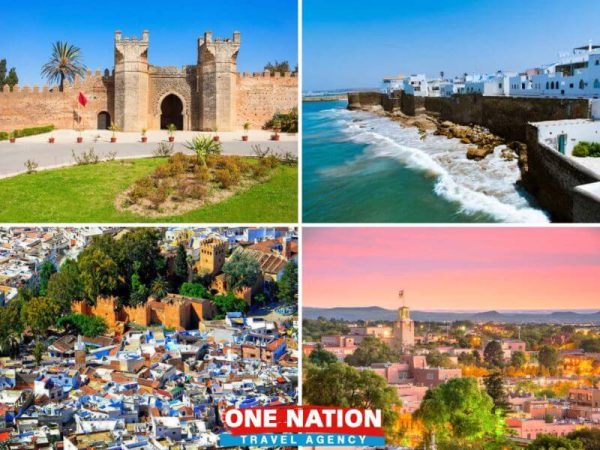 5-Day Tour from Casablanca to Fes via Chefchaouen
$1,160.00 per person
This 5-day tour will take you to explore the north of Morocco and the medieval cities starting from Casablanca the economical capital passing through Rabat the capital then the Atlantic city Asilah where you stay for the first night. as we head deep north we reach Tanger then we change the direction to the Blue city Chefchaouen crossing the Rif mountains, the second night will be at Chaouen. leaving Chaouen we head towards the imperial city of Fes after two stops in Volubilis the Roman ruins in Morocco and the Ismailia city Meknes on the 3rd night at Fes. The 4th day will be devoted to exploring the city of Fes and its magnificent Unesco-registred heritage with a private guide. The last day of our journey ends with an airport transfer back to Casablanca.
Obtain your tour price by selecting tour dates and specifics below:
Day 1:

Casablanca – Rabat – Asilah:

Stop At: Casablanca, Casablanca, Casablanca-Settat
Our Moroccan private trip starts by picking you up at the airport in Casablanca ( it depends on your landing spot it could be Casablanca or Rabat). In Casablanca, you will first visit the Cornish on the Atlantic coast and Casablanca's landmark building – Hassan II mosque designed by the French architect Michel Pinceau. If your flight arrives early morning you get the chance to meet a guide to join a group tour in the Hassan II mosque, Perched dramatically on a rocky outcrop overlooking the Atlantic Ocean, The mosque's architecture and beauty are the results of more than 6000 Moroccan artisan's work.

Duration: 3 hours

Stop At: Rabat, Rabat, Rabat-Sale-Kenitra
Departure to Rabat for a lunch in a restaurant after you will meet your guide and you will be escorted on a walk around Oudaya's Kasbah, which was built by Moulay Ismail from 1672 to 1727 to protect the city. Next, explore Hassan Tower which is a gigantic mosque. Afterward, you will visit the beautiful Mausoleum of Mohammed V to see its stained glass windows, white marble, and a wrought-iron entryway.
After the Rabat stop, we drive to Asilah through the coast road.

Duration: 4 hours

Stop At: Asilah, Asilah, Tanger-Tetouan-Al Hoceima
Asilah is built by the colonial Portuguese in the 15th-century, its old Medina is an Art hub, known for its murals and Moussem cultural annual festival. This fortified Atlantic town has many attractive sights such as the Skalla fortress,
and overnight in a Hotel/Riad.

Duration: 4 hours
Overnight in Asilah
Included Meal(s): Dinner
Accommodation included: Overnight in Riad or 3/4 Stars Hotel
Day 2:

Asilah – Tangier – Chefchaouen:

Stop At: Chefchaouen Medina, Chefchaouen Morocco
After breakfast, our journey continues next stop at Tangier, where you will have the chance to visit the Kasbah medina and Grand Socco, the American legation & the Cap Spartel where the Mediterranean sea meets the Atlantic ocean & you will see the Hercules cave. After a lunch break our destination will be the Blue city Chefchaouen or Chaouen driving through the Rif mountains. Chefchaouen is considered by many the most beautiful town in Morocco perhaps in north Africa known for its striking blue-washed buildings and its 15th-century fortress and dungeon. you will have the chance to visit its main square place Outa el-Hammam and the ethnographic museum. In the evening you will stay in one of its magnificent Riads.

Duration: 1 day
Overnight in Chefchaouen
Included Meal(s): Breakfast and Dinner
Accommodation included: Overnight in 3/4 Stars Hotel or Riad
Day 3:

Chefchaouen – Volubilis – Meknes – Fes:

Stop At: Fes, Fes, Fes-Meknes
After breakfast, we resume our North- Morocco tour heading towards Volubilis the Roman empire ruins in North Africa. Nearby Volubilis we stop by the sacred village of Moulay Idriss .founded by Moulay Idriss considered the origin of Moroccan imperial history. you get to walk around the village or even on a trek in the charming countryside followed by lunch with views of the Roman ruins. After Volubilis, we reach shortly Meknes, one of 4 Morocco's imperial cities built by the sultan Moulay Ismail ( 1672- 1727) Meknes set to be the capital of Morocco, and its imperial palace, city walls, and kasbahs are showing the city's value in the Moroccan history. Meknes have many Places of interest including EL-Hddim Square, Bab El Mansour gate, the Mausoleum of Moulay Ismail, the imperial palace, and the royal granaries and stables. Our journey should take place to Fez late afternoon/ evening. Then you will have dinner and a relaxing night in an accommodation inside the medina of Fez.

Duration: 8 hours
Overnight in Chefchaouen
Included Meal(s): Breakfast
Accommodation included: Overnight in Riad or 3/4 Stars Hotel
Day 4:

Exploring Fes with a local guide:

Stop At: Medina of Fez, Fes 30000 Morocco
With the first light of dawn, you will get to explore the UNESCO-protected Fez Medina, with your own private guide. Your guide will help you navigate the city and see its monuments and main parts, its vibrant Souks and the Qarawiyyin Mosque/university, Chouara Tannery, Bab Jeloud gates, and many other fascinating sights. you'll have a lunch break before you continue your city tour. Then you may want to take a look at the Nejjarine Square and catch your breath enjoying a mint tea on the roof terrace of Nejjarine Foundouk. After you will have a free evening to enjoy the city at your own pace and enjoy an imperial night in the imperial city.

Duration: 5 hours
Overnight in Fes
Included Meal(s): Breakfast
Accommodation included: Overnight in Riad
Day 5:

Fes to Casablanca

Stop At: Casablanca, Casablanca, Casablanca-Settat
Our Tour comes to an end, to conclude our services we will transfer you to the airport to catch up your flight in Casablanca keep in mind that our transfer service if your departure flight is from another city besides Casablanca (Rabat- Fes –Tanger).

Duration: 4 hours
Included Meal(s): Breakfast
No accommodation is included on this day.
INCLUDED in the Tour Price:
All transfers are mentioned in the itinerary.
Transport by private air-conditioned vehicle with English-Speaking Driver.
Private Guided visit of Fez with local official Guide.
Guest House/ Riad / Hotel / Boutique Accommodation for 4 nights.
Breakfast (4)
Dinner (2)
NOT INCLUDED:
International flight tickets.
Visa to enter Morocco.
Historical monuments entry tickets
And what's not mentioned.
Escorting tour guide.
Lunches and any soft drinks.
Personal expenses and tips.
Any other service not mentioned above.
Travel Insurance.
IMPORTANT INFO:
The order of the itinerary is indicative and subject to change, but all visits described will take place.
Not wheelchair accessible.
This is a private tour/activity. Only your group will participate.
This tour must be booked at least 10 days in advance.