🔍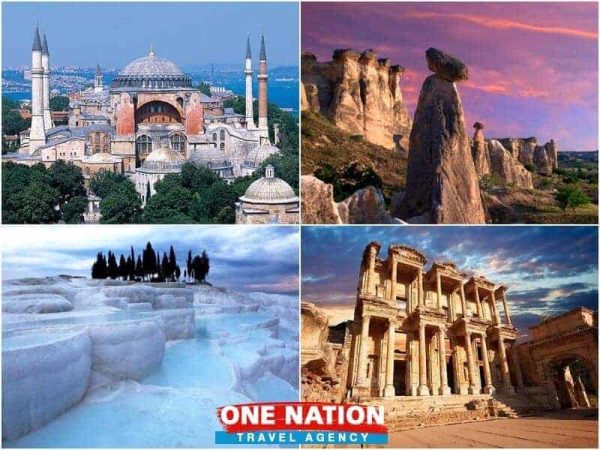 7 Days Istanbul, Cappadocia, Ephesus & Pamukkale Tour
$860.00 per person
This 7 days Istanbul Cappadocia Ephesus Pamukkale tour offers you the chance to see some of the most impressive cities in Turkey: Istanbul, Cappadocia, Kusadasi, Ephesus, Pamukkale, and much more!
Obtain your tour price by selecting tour dates and specifics below:
Day 1:

Arrival in Istanbul

Arrive any day in Istanbul. Istanbul Welcome to Turkey Istanbul airport. Meet with Our Turkey staff, transfer from airport & check in to your hotel. After hotel check-in, the rest of the day is at leisure on your own.
Overnight stay in Istanbul
Day 2:

Istanbul Byzantine and Ottoman Relics Tour

Breakfast at the hotel. This morning, set off on a half-day tour of Istanbul to discover its most emblematic sights and monuments. Begin at the Hippodrome of Constantine, to explore the relics of what was once the centre of mighty Constantinople during Byzantine times, including the Obelisk of Theodosius, brought from Egypt to Constantinople in the 4th-century. Afterwards, it's time to visit the magnificent Hagia Sophia Museum, which has served as both a Greek Orthodox Cathedral and an imperial mosque over the centuries. End the tour at Istanbul's most iconic landmark: the Blue Mosque, dating from the 17th-century and well-known for the hand-painted blue tiles of its interior.

After the tour, you will be transferred back to your hotel around 1:00 PM. The remainder of the day is free at your leisure.
Overnight stay in Istanbul
Included Meal(s): Breakfast
Day 3:

Bosphorus Cruise — Fly to Kayseri/Nevsehir from Istanbul

Breakfast at the hotel. Head to the Egyptian Spice Bazaar this morning to enjoy the diverse aromas before enjoying a laid-back Bosphorus Cruise, where you can admire the eclectic architecture of the city as you travel between Europe and Asia, watching the palaces of the Ottomans, Dolmabachce and Beylerbeyi pass by you. Back on dry land, transfer to the airport for a flight to Cappadocia, famed for its unique geological formations and 'fairy chimneys. Arrive and transfer to the hotel. Spend the remainder of the day at your leisure, soaking up the breathtaking sunset views across the magical landscapes of Cappadocia.
Overnight stay in Cappadocia
Included Meal(s): Breakfast
Day 4:

North Cappadocia Tour

Breakfast at the hotel. Today on the tour you will visit the beautiful Dervent Valley where you'll see a large concentration of small fairy-chimneys and many unique rock formations, some of which resemble animals and human figures, hence the area has been nicknamed 'Imagination Valley. Continue to Pasabagi to see the mushroom-shaped pinnacles and learn about the hermits who once lived here. In the afternoon, explore the Open-Air Museum of Goreme, where rock-cut churches and Christian settlements date back as far as the 10th-century. Inside the cave churches, you'll find amazing frescoes and wall paintings. It's clear to see why this unique destination is a designated UNESCO World Heritage Site. After an action-packed day, return to the hotel.
Overnight stay in Cappadocia
Included Meal(s): Breakfast and Lunch
Day 5:

South Cappadocia Tour — Fly to Izmir

Breakfast at the hotel. Begin the day with a leisurely hike through the Rose Valley to visit the rock churches and appreciate the natural beauty of the landscape. Continue to Cavusin, an ancient Christian village and in the afternoon, explore Kaymakli Underground City, an amazing place, carved deep into the rocks and dating back as far as the 8th-century. This underground complex was greatly extended during the Byzantine period, when it was used for protection against enemy raids, and is composed of many different levels and floors which reveal fascinating secrets about daily life in Byzantium. Emerge from the caves and transfer to the airport to catch a flight to Izmir. Arrive in Izmir and transfer to Kusadasi, on Turkey's western Aegean coast. Arrive and get settled at the hotel.
Overnight stay in Kusadasi
Included Meal(s): Breakfast and Lunch
Day 6:

Ephesus Tour

Breakfast at the hotel. This morning, set off for Ephesus, the best-preserved ancient city in Asia Minor. Explore its excavated collonaded streets and discover the ruins of the Temple of Hadrian and the Roman Baths. In the afternoon, visit the mysterious House of Virgin Mary, situated on Mount Koressos. This Catholic shrine and pilgrimage site is believed, by some, to be the home of Jesus's mother, who, after Jesus's crucifixion, lived the remainder of her earthly life on the site. Return to Kusadasi and enjoy the remainder of the day exploring or relaxing at your leisure.
Overnight stay in Kusadasi
Included Meal(s): Breakfast and Lunch
Day 7:

Pamukkale Tour — Fly back to Istanbul — End of Services

Breakfast at the hotel. Your adventure continues today as you set off for Pamukkale, where the high calcareous concentration of its waters has created one of the most spectacular land formations in the world, consisting of gigantic white waterfalls, stalactites, and natural pools formed over centuries. Afterwards, transfer to Cardak airport in Denizli to catch a flight back to Istanbul. END OF OUR SERVICE and TOURS.
Included Meal(s): Breakfast and Lunch
Accommodation: No accommodation is included on this day.
Important notes:
Please note that your return flight from Denizli / Izmir to Istanbul will arrive at either the New Airport in Istanbul or at the Sabiha Gökçen Airport depending on the availability of flights on the ticket purchase date.

Upon arrival at Istanbul airport, you will have to arrange your own pick-up service from Istanbul airport to your hotel in Istanbul. This transfer is not included as part of your package tour services with us. Our service ends upon your flight arrival at Istanbul Airport.

If you have a preference to return to a specific airport in Istanbul i.e. Sabiha Gokcen or Istanbul New Airport, you must request your choice of the airport in Istanbul by email prior to your tour booking. Any changes requested once your booking is confirmed will incur an additional cost.
INCLUDED in the Tour Price:
All transfers as mentioned in this itinerary.
Domestic flight tickets (from Istanbul to Kayseri and Kayseri to Izmir and Denizli to Istanbul) as per the itinerary.
2 nights in Istanbul at a 4-star or special class hotel including breakfast.
2 nights in Cappadocia at a cave hotel including breakfast.
2 nights in Kusadasi at a 4-star hotel including breakfast.
English-speaking guide during the tours.
Meals as per itinerary (B=breakfast, L=lunch).
Entrance fees mentioned by the itinerary.
Local taxes and service charges.
NOT INCLUDED:
Drop off transportation service from Istanbul New Airport OR Sabiha Gökçen Airport to Istanbul Hotel upon returning to Istanbul.
International flight tickets.
Visa to enter Turkey
Optional tours mentioned in the program, they will be provided at an additional cost.
Services not mentioned in the program.
Drinks with meals.
Travel insurance (recommended).
IMPORTANT INFO:
The order of the itinerary is indicative and subject to change, but all visits described will take place.
This is a regular group tour, but if requested at cost can be provided as a private tour.
The regular group tour has shopping stops included in the tour.
The normal arrival time in Istanbul is between 8:00 – 10:00 pm. If you are planning on reserving your plane back home that same day, we recommend you book a plane ticket from 1:30 am onwards, to avoid missing your flight.
Vegetarian lunch option available upon request.
Please note that the Blue Mosque is not open for visitation on Fridays as it is closed for religious prayer services. You will only be able to visit the outside of the Blue Mosque area on tours operated on Fridays. No visitation will be allowed inside the Blue Mosque for tourists on Fridays.
Hagia Sophia Museum is closed on Monday, this will be replaced with the Basilica Cistern (Yerebatan Sarnici).
Accommodation in below Hotels (or similar hotels depending on vacancy at the time of booking):
In Istanbul: Muyan Suites OR Midtown Hotel Taksim OR Grand Oztanik Hotel OR Deluxe Golden Horn Hotel
In Cappadocia: Holiday Cave Hotel OR Dedeli Konak Cave Hotel OR  Heaven Cave House OR Kismet Cave House
In Kusadasi: Derici Hotel OR Efe Boutique Hotel OR Marina Hotel
The quoted price of this tour covers accommodations in hotels as mentioned above or in similar quality hotels.
If you wish to include a higher quality hotel, we offer two options:
Option 1: We can upgrade your hotel at an additional cost. This cost will be added to the total tour price of the standard package tour.
Option 2: You can arrange your own accommodation on the tour as per your preference. We can offer a new package tour price without including the cost of hotel accommodation. If Option 2 is preferred, all services as part of the package tour will be provided except for hotel accommodation.
Please let us know the option you prefer at the time the tour request is made so that we can price the tour accordingly. If no change in hotels is needed and you wish to proceed with the hotels highlighted in our package tour at the quoted tour price then you may book the tour directly online.