🔍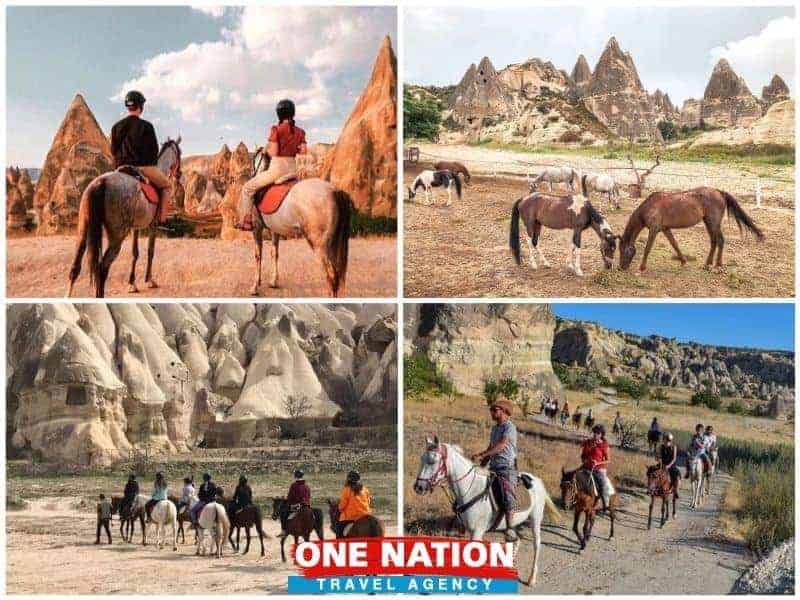 Cappadocia Horseback Riding Tour
From: $70.00
Saddle up and experience the beauty of Cappadocia like never before with our Cappadocia Horseback Riding Tour. Explore the unique landscapes of this region on horseback as you ride through stunning valleys, ancient cave dwellings, and otherworldly rock formations. Our experienced guides will lead you on a journey through the heart of Cappadocia, showing you hidden gems and stunning views that can only be experienced on horseback.
Obtain your tour price in USD by selecting tour dates and specifics below:

Cappadocia Horseback Riding Tour: Explore the Fairy Chimneys on Horseback
Departure time: 10:00 AM, 13:00 PM, 16:00 PM
Duration: 2 hours (approx.)
---
While you are in Cappadocia do not miss a unique experience of horseback riding through the beautiful valleys with fairy chimneys. Cappadocia, also known as the 'Land of beautiful horses', has all the necessary conditions for a quality and memorable ride: well groomed, peaceful and powerful horses, amazing landscape, quiet trails far from the crowds, hospitable people taking care of you all through the day. A 2-hour ride is a great way to explore the area. Enjoy horseback riding in a peaceful environment far away from the roads and crowded tourist attractions. A professional guide will accompany you all the way showing the trails with amazing rock formations and the most spectacular fairy chimneys. Continue riding through the local apricot orchards and traditional vineyards enjoying unique landscapes in every direction. This tour includes also a visit to the rock-cut Hallacdere monastery, one of the numerous treasures of Cappadocia. 2-hour horseback riding in Cappadocia is a very memorable experience because there is nothing more special than to see the area from the back of the horse.
INCLUDED in the Tour Price:
Pick-up and drop-off from Cappadocia area hotels
English-speaking guide
Equipment (Helmets)
NOT INCLUDED:
Insurance
Refreshments
Gratuities (optional)
IMPORTANT INFO:
Minimum age is 7 years.
Not recommended for pregnant women.
The duration of transfers is approximate, the exact duration will depend on the time of day and traffic conditions.
Inquire About this Trip
Please fill out the information below and we will be in touch shortly with your personalized quote.