🔍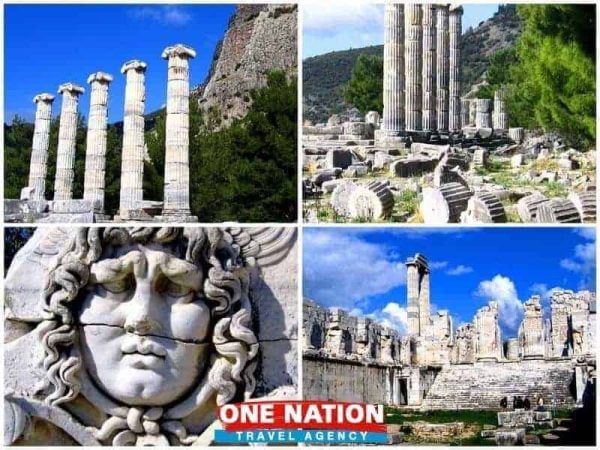 Priene, Miletus and Didyma Tour from Izmir
$89.00 per person
Discover the ancient cities in the western part of Turkey on a full-day tour from Izmir. Join a daily guided tour and find out everything you need to know about Priene, Miletus, and Didyma as you explore ancient ruins, baths, and temples.
Obtain your tour price by selecting tour dates and specifics below:
Priene, Miletus and Didyma Tour from Izmir
Discover the archaeological sites of Miletus, Didyma & Priene with this excursion from Izmir. You'll feel as if you've traveled back in time as you learn about the history of the Greeks and Romans.
---
You will be picked up in the morning from your hotel in Izmir, Izmir airport or Izmir cruise port between 7:30 – 8:00 am for the full day Priene, Miletus and Didyma Tour. Once you are picked up you will continue on to the following sites:
Priene; Set dramatically at the foot of a sheer mountain wall, Priene overlooks the aptly named Meander River. This 2,500 years old Ionian city was among the first to be planned with a grid system of streets.
Miletos; These ancient ruins lie on a hill near the Aegean Sea. Explore the ancient theater, built circa IV Century B.C. The theater could accommodate over 15,000 spectators. Visit the well-preserved Bath of Faustina, named after the wife of Marcus Aurelius, who ordered their construction. Break for lunch at a traditional Turkish restaurant. After lunch, continue your tour to:
Didyma; In antiquity, Didyma was connected to Miletus by a sacred road. Visit the ruins of the Temple of Apollo, one of the largest temples from the Hellenistic Period. Despite extensive construction, the temple was never fully completed.
At the end of the tour around approximately 4:00 pm, you will be transferred back to your hotel, Izmir airport or Izmir cruise port or city center drop off location.
INCLUDED in the Tour Price:
Centrally located Izmir hotels, Izmir Airport or Izmir cruise port pickup and drop-off
Transport by air-conditioned vehicle
Professional licensed English speaking guide during the tour
Lunch
Entrance fees to attractions
Local taxes and service charges
NOT INCLUDED:
Personal expenses and tips
IMPORTANT INFO:
This is a regular group tour, but if requested at cost can be provided as a private tour
The regular group tour has a shopping stop included in the tour