How many days do you need for Cairo and Luxor?
Embark on a mesmerizing 5-day journey through the captivating history and culture of Cairo and Luxor, exploring Egypt's most iconic landmarks. This itinerary showcases the best of these two cities, taking you on an unforgettable adventure through ancient pyramids, world-famous museums, and breathtaking temples. This perfectly curated trip ensures a memorable experience for history enthusiasts and curious travelers alike.
Day 1: Arrive and Overnight in Cairo
Arrive in Cairo on your preferred day. As soon as you land, our representative will greet you at the airport and escort you to your hotel located in the heart of the city. Enjoy the rest of the day at your own pace, relaxing or exploring the city as you wish.
Day 2: Giza Pyramids, Egyptian Museum, Coptic and Islamic Cairo, and Khan El Khalili – A Private Tour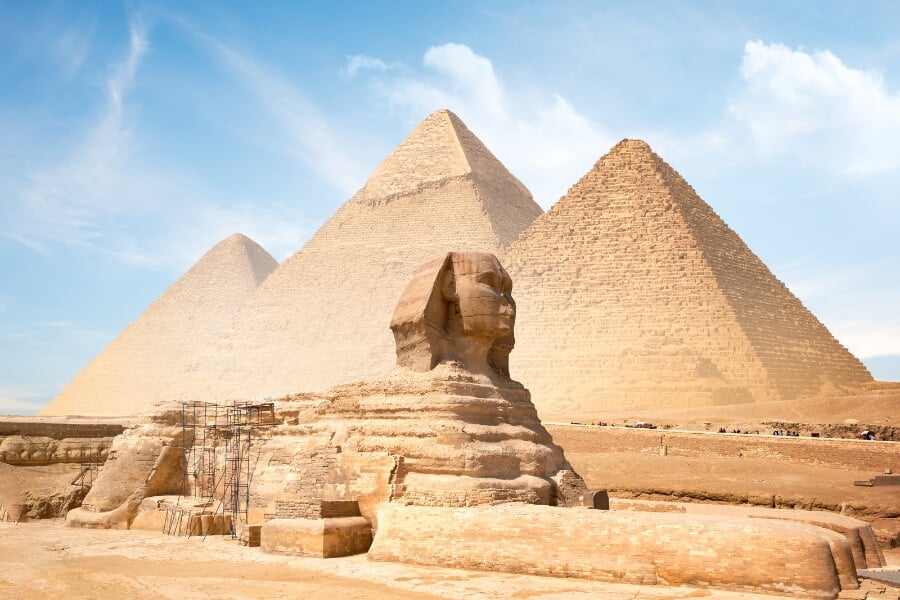 After breakfast, at around 8:00 am, your personal guide will accompany you to the Giza Plateau to witness one of the seven wonders of the ancient world: the awe-inspiring Great Pyramids of Cheops, Chephren, and Menkaure, as well as the enigmatic Sphinx and Giza Valley Temple. Next, visit the Egyptian Museum, home to the priceless treasures of King Tutankhamen. Continue to Coptic Cairo to explore the Hanging Church and Ben Ezra Synagogue, before heading to Islamic Cairo and wandering through the charming Khan El Khalili Bazaar. At the end of the day, you will be transferred back to your Cairo hotel.
Day 3: Cairo to Luxor – Luxor East Bank Excursion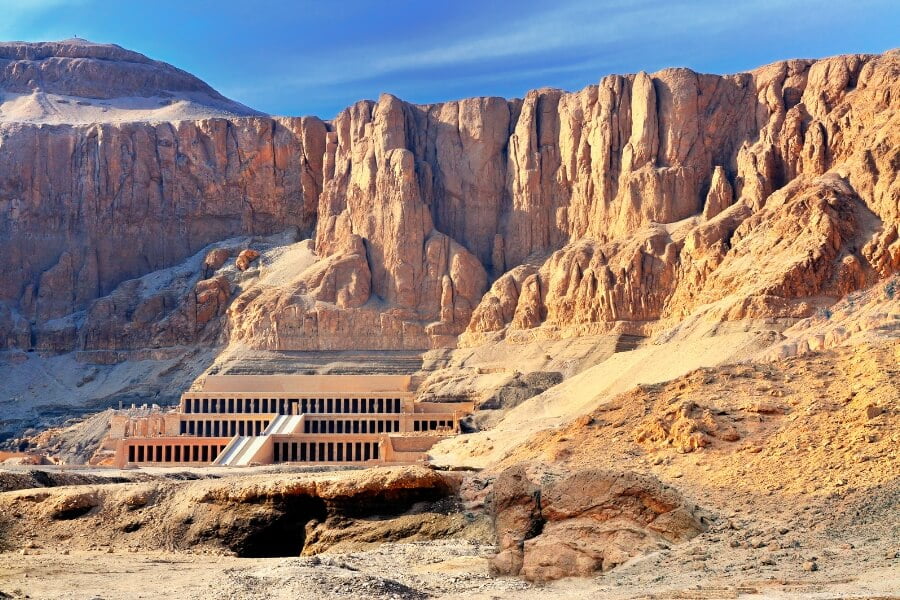 After breakfast, check out from your Cairo hotel and transfer to the airport for your flight to Luxor. Upon arrival, check in to your Luxor hotel and begin your exploration of the East Bank. Visit the Royal Cemetery for 62 Pharaohs, the Valley of the Kings, and the magnificent mortuary Temple of Queen Hatshepsut, constructed by New Kingdom architects in the 15th century BC. Conclude your day with a visit to the Colossi of Memnon before retiring to your Luxor hotel for the night.
Optional: Enhance your experience with a Sound & Light Show at the Karnak Temples (additional cost). (Flight Time Approx: Cairo to Luxor 06:00 – 07:00).
Day 4: Luxor West Bank Adventure – Return to Cairo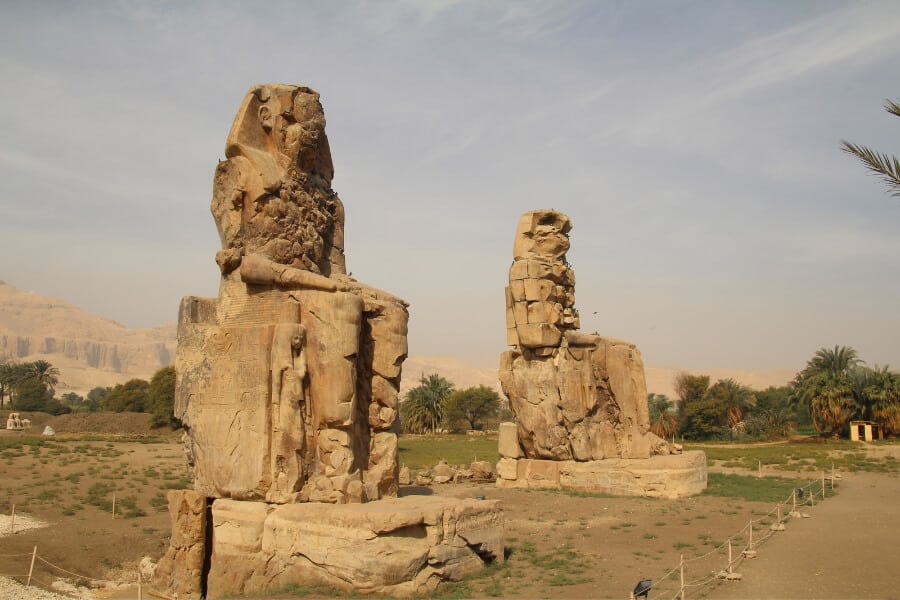 Following breakfast, at around 8:00 am, you will be picked up to explore the majestic Karnak Temples and the renowned Luxor Temple. After your temple visits, head to the Luxor airport for your flight back to Cairo. Upon arrival, you will be greeted and assisted at the airport, then transferred to your Cairo hotel for the night. (An evening flight is recommended).
Day 5: Departure from Cairo – Farewell to Egypt
After breakfast, check out from your Cairo hotel (before 12:00 noon) and transfer to Cairo International Airport for your onward journey or to join a tour in Jordan. This marks the end of our unforgettable Egyptian adventure.
Conclusion:
Discover the enchanting world of Egypt through One Nation Travel's meticulously curated private tour packages. With our Egypt tour packages, you can explore the country's rich culture, awe-inspiring ancient monuments, and stunning natural landscapes. From the iconic pyramids of Giza and cruising along the Nile River, to immersing yourself in Cairo's vibrant energy, we have a tour package that will suit your preferences. Let us guide you on a journey through Egypt that you'll never forget.
FAQs
What is the best time of year to visit Cairo and Luxor?
The best time to visit Cairo and Luxor is during the cooler months, between October and April when temperatures are more comfortable for sightseeing. However, these months are also the busiest in terms of tourism. If you don't mind the heat, visiting during the low season (May to September) can mean fewer crowds and lower prices.
Are Cairo and Luxor safe for tourists?
Generally, Cairo and Luxor are safe for tourists. Egypt is known for its warm hospitality, and visitors often feel welcome and secure. However, it is important to exercise caution and be aware of your surroundings, just as you would in any other destination. Follow the advice of local authorities, stick to well-traveled areas, and avoid displaying valuable items.
Do I need a visa to visit Egypt?
Most visitors require a visa to enter Egypt, which can be obtained online through the Egypt e-Visa portal or upon arrival at the airport for certain nationalities. Be sure to check the requirements for your specific country before planning your trip.
Can I customize my itinerary?
Yes, the 5-day Cairo and Luxor itinerary can be customized to suit your preferences. You can add additional days, include more attractions, or request specific accommodations. Speak to your tour operator or travel agent to help you tailor your trip.
Is it possible to extend my stay and visit other parts of Egypt?
Absolutely! Egypt has a wealth of incredible destinations to explore, such as Aswan, Abu Simbel, the Red Sea, and the Sinai Peninsula. You can easily extend your trip and include these destinations in your itinerary, either before or after your 5-day Cairo and Luxor experience.
What currency is used in Egypt, and where can I exchange money?
The Egyptian Pound (EGP) is the official currency in Egypt. You can exchange foreign currency at banks, exchange bureaus, hotels, or airports. ATMs are also widely available in Cairo and Luxor, where you can withdraw local currency using your international bank card.
What languages are spoken in Egypt?
The official language in Egypt is Arabic. However, English is widely spoken in tourist areas, such as Cairo and Luxor, and you should not have any issues communicating with locals in these regions.
Is it customary to tip in Egypt?
Tipping, or "baksheesh," is customary in Egypt for good service. It is not mandatory but appreciated, especially in the tourism and service industries. You may tip your guide, driver, hotel staff, or waiters in restaurants, with the amount depending on the quality of service and your personal preference.