Ever wondered about traveling to a place that not only holds historical significance but also presents a unique fusion of nature's wonder and architectural grandeur? Let's explore Petra, also known as Rose City, one of the hidden gems of Jordan.
One Nation Travel provides both private and group tour packages to Jordan, suitable for all budgets, and these packages include a tour of Petra from Amman.
Introduction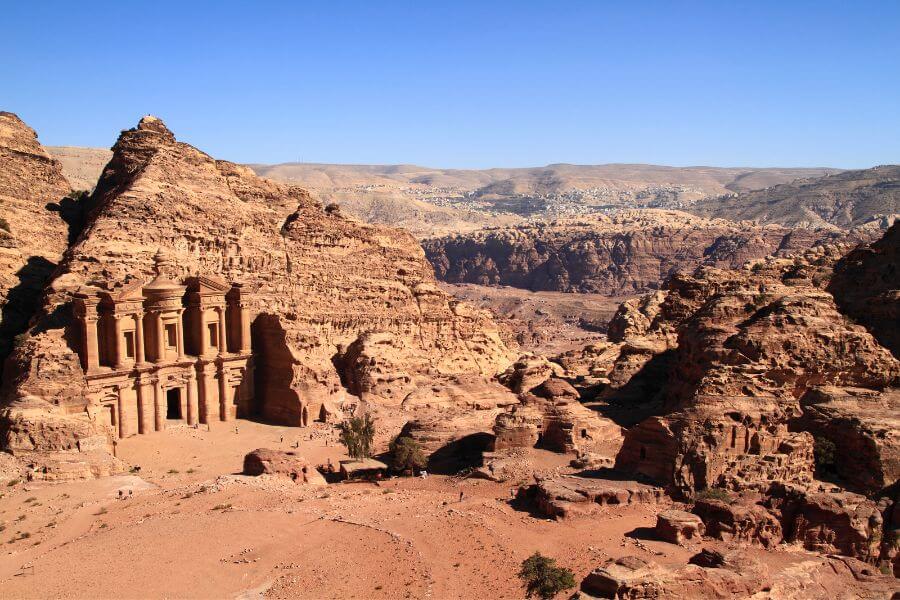 Petra, a historical and archaeological city in southern Jordan, is renowned for its rock-cut architecture and water conduit system. An iconic representation of Jordan's ancient culture, Petra is more than just a tourist destination; it's a gateway into the ancient world.
Brief History of Petra
The story of Petra begins with the Nabateans, an industrious Arab people who settled in Petra more than 2000 years ago. They carved this city out of the rose-red rock, giving Petra its moniker – The Rose City. Isn't it amazing how the past is etched in the present?
Geographical Marvel of Petra
The city is located in a basin among the mountains, which form the eastern flank of the Arabah Valley. Carved from vibrantly colored sandstone cliffs, Petra is a geographical marvel that is as astounding as its historical significance. Remember, this city was sculpted, not built!
The Mystical Architecture
The rock-carved architecture of Petra is what truly sets it apart. The intricate details and massive edifices will leave you spellbound.
The Treasury (Al-Khazneh)
Upon entering through the Siq, a narrow gorge over 1km in length, you're greeted by Al-Khazneh, known as 'The Treasury'. With its Hellenistic façade, this iconic monument is Petra's most elaborate ruin.
Monastery (Ad-Deir)
A bit of a climb, but the view from the Monastery (Ad-Deir) is worth every step. This monumental building is one of Petra's most magnificent structures, showcasing the scope of the Nabateans' architectural prowess.
High Place of Sacrifice
If you're up for an adventure, hiking to the 'High Place of Sacrifice' offers a panoramic view of the Petra basin, coupled with the remnants of an ancient ceremonial platform. Can you feel the aura of history?
Petra by Night
Imagine walking through the Siq under the starlit sky, with the path lit by thousands of candles leading to the glowing Treasury. Petra by night is a magical experience you won't want to miss.
The Bedouin Culture
To truly understand Petra, one must learn about its guardians – the Bedouins.
The Petra Bedouin
The Bedouin people of Petra have a deep connection with this land. Their ancestral roots go back to the Nabateans. Today, they continue to dwell within the Petra basin, keeping alive their vibrant culture.
Bedouin Hospitality
When you visit Petra, you'll be welcomed with genuine Bedouin hospitality. They might even invite you to share a cup of their traditional sweet tea, symbolizing their warm-hearted nature. Isn't it true that people make a place?
Getting to Petra
Petra, while secluded, is accessible to eager travelers.
Accessibility and Visiting Hours
Reaching Petra is relatively easy, with various transport options available from Amman and Aqaba. As for visiting hours, Petra is open from 6 AM to 6 PM in summer and 6 AM to 4 PM in winter.
Practical Tips for Visiting Petra
Best Time to Visit
The best time to visit Petra is in spring (March to May) or autumn (September to November), when the weather is milder.
What to Wear
Dressing comfortably is key for exploring Petra. Think sturdy shoes for hiking and breathable clothes for the desert climate. And don't forget your hat!
Conclusion
The Rose City of Petra is an amalgamation of history, culture, and natural beauty. A hidden gem in Jordan, it invites you to step back in time and immerse yourself in its stunning landscape and architectural wonders. So, are you ready to explore Petra?
FAQs
1. Is Petra safe to visit?
Yes, Petra is considered safe for tourists. However, it's always advisable to follow standard travel safety measures.
2. How many days do I need to explore Petra?
While you can see the main sights in one day, ideally, a two-day visit allows a more relaxed exploration.
3. Can you stay overnight in Petra?
While you can't stay in the archaeological site itself, nearby towns offer a range of accommodations.
4. What is the entrance fee for Petra?
The entrance fee varies depending on your tourist status and length of stay. Always check the latest information before your visit.
5. What else can I do around Petra?
There's much more to explore around Petra, such as the Wadi Rum desert and the Dead Sea.