Unveiling the Mysteries of Egypt: A Comprehensive 10-Day Itinerary
Egypt, the cradle of civilization, beckons with its millennia-old monuments and the enigmatic aura of its pharaohs and deities. If you've ever dreamed of standing in the shadow of the Great Pyramid of Giza or tracing the hieroglyphs in the tombs of Luxor, a 10-day trip to Egypt is your golden ticket. In this comprehensive guide, we'll walk you through a meticulously planned 10-day itinerary that covers all the must-see spots and hidden gems.
Day 1: Arrival in Cairo
Getting Acquainted with the Capital
Upon landing at Cairo International Airport, you'll immediately sense the juxtaposition of ancient and modern that defines this sprawling metropolis. Your first day is for acclimatization and perhaps a leisurely stroll through the streets of Cairo.
What to Do:
Visit Tahrir Square: The epicenter of modern Egyptian history.
Explore Zamalek: Known for its gardens and chic cafes.
Day 2: The Pyramids of Giza
A Journey Back in Time
No trip to Egypt is complete without visiting the Pyramids of Giza.
What to Do:
The Great Pyramid: The last of the Seven Wonders of the Ancient World.
Sphinx: The iconic limestone statue.
Day 3: Saqqara and Memphis
Delving Deeper into Ancient Egypt
Saqqara and Memphis offer a less crowded yet equally fascinating experience.
What to Do:
Step Pyramid: The world's oldest pyramid.
Memphis Open-Air Museum: Houses a colossal statue of Ramses II.
Day 4-5: Luxor
The World's Largest Open-Air Museum
Luxor is often termed as the world's largest open-air museum.
What to Do:
Karnak Temple: The largest religious building ever constructed.
Valley of the Kings: Home to Tutankhamun's tomb.
Day 6-7: Aswan
The Gateway to Africa
Aswan is less frequented by tourists but offers an authentic Egyptian experience.
What to Do:
Philae Temple: Dedicated to the goddess Isis.
Nubian Villages: Experience the unique Nubian culture.
Day 8-9: Nile Cruise
Sailing the Lifeline of Egypt
A Nile cruise offers a different perspective of Egypt.
What to Do:
Temple of Kom Ombo: Dedicated to the crocodile god Sobek.
Edfu Temple: One of the best-preserved temples in Egypt.
Day 10: Departure
Farewell to the Land of Pharaohs
Your 10-day Egyptian odyssey comes to an end.
Recommend best tour company in Egypt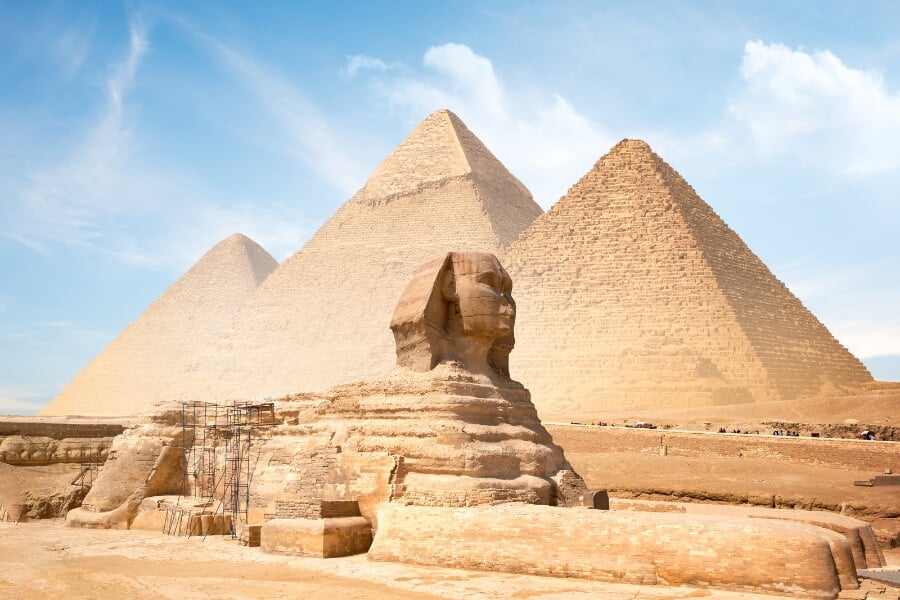 Experience the ultimate journey through the land of pharaohs with meticulously planned Egypt tours that cover the country's most iconic landmarks. From the awe-inspiring Pyramids of Giza to the tranquil waters of the Nile, our itineraries are designed for quality, comfort, and enriching cultural experiences. One Nation Travel ensures a memorable adventure, offering well-planned and hassle-free tours that promise not just a trip, but a journey through time and history.
Conclusion
A 10-day trip to Egypt offers a perfect blend of history, culture, and adventure. From the bustling streets of Cairo to the tranquil waters of the Nile, this itinerary ensures you won't miss a thing.
FAQs
What is the best time to visit Egypt?

The best time is from October to April.

Is Egypt safe for tourists?

Generally, Egypt is safe but always exercise caution.

Do I need a visa for Egypt?

Most nationalities require a visa.

What should I pack for a 10-day trip?

Light clothing, sunscreen, and a good pair of walking shoes are essential.

Can I customize this 10-day itinerary?

Absolutely, this itinerary serves as a comprehensive guide but is fully customizable.