Exploring the Wonders of Ancient Egypt: Your 7-Day Dream Itinerary Revealed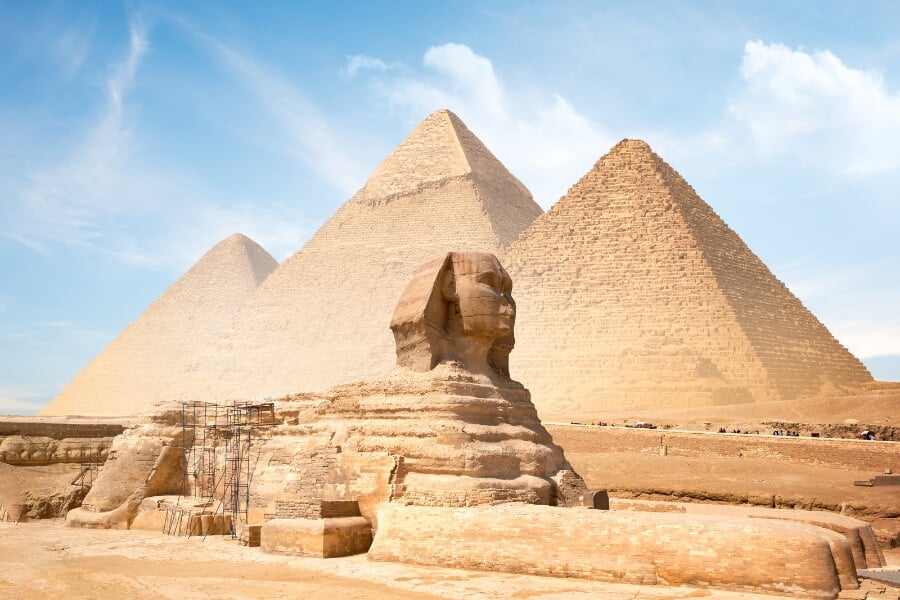 Landscapes. A 7-day tour of this captivating country is a journey that promises to be both magical and life-changing. If you're planning a trip to Egypt, we've crafted the ultimate 7-day itinerary just for you! With this itinerary, you'll explore everything from bustling Cairo to the tranquil Nile, with plenty of archaeological wonders in between.
Day 1: Arrival in Cairo, Egypt
Highlights: Meet and Greet, Hotel Check-in
Overnight: Cairo
Upon your arrival in Cairo, you'll meet our representative in the arrivals area of Cairo International Airport. Look for the signboard bearing your name. You'll be transferred to your hotel where you can relax and gear up for an unforgettable week.
Day 2: Fly to Aswan from Cairo – Nile Cruise Starts (Mon or Fri)
Highlights: Aswan Tour, Nile Cruise Embarkment
Overnight: Nile Cruise
After breakfast and check-out, you'll fly to Aswan. A tour of Aswan awaits you, after which you'll board your Nile cruise ship to begin your journey along the world's longest river.
Day 3: Nile Cruise – Optional Abu Simbel
Highlights: Abu Simbel (Optional), Kom Ombo, Edfu
Overnight: Nile Cruise
Start your day with an optional tour to Abu Simbel. Later, sail to Kom Ombo to visit the ancient temple dedicated to the crocodile god Sobek. Continue to Edfu and visit the Temple of Horus. Enjoy your dinner and an overnight stay on the cruise ship.
Day 4: Nile Cruise – Edfu – East Luxor
Highlights: Luxor Temple, Karnak Temple
Overnight: Nile Cruise
After another visit to Edfu Temple, you'll sail to Luxor. Visit the magnificent Luxor and Karnak Temples, before spending another relaxing night on board.
Day 5: West Luxor Tour – Fly back to Cairo
Highlights: Valley of the Kings, Temple of Hatshepsut, Colossi of Memnon
Overnight: Cairo
Check out from the cruise and embark on a tour of the west bank of Luxor. Fly back to Cairo in the evening and check into your hotel.
Day 6: Private Tour to Giza, Egyptian Museum, and Cairo
Highlights: Pyramids of Giza, Sphinx, Egyptian Museum, Coptic and Islamic Cairo
Overnight: Cairo
A packed day awaits you in Cairo. You'll visit the legendary Pyramids of Giza, the Sphinx, and the Egyptian Museum. End the day with visits to Coptic and Islamic Cairo, along with a shopping spree at Khan El Khalili bazaar.
Day 7: Departure from Cairo — End of Tour Service
Highlights: Farewell
After breakfast, you'll be transferred to Cairo International Airport for your departure, thus concluding an unforgettable 7-day journey through Egypt.
Frequently Asked Questions
1. Is the flight from Cairo to Aswan included in the package?
Yes, domestic flights within Egypt as specified in the itinerary are included.
2. Can I opt out of the Nile Cruise?
The Nile Cruise is an integral part of this tour. However, if you prefer not to take part, we can adjust the itinerary to suit your preferences.
3. What is the best time to visit Egypt?
The best time to visit Egypt is from October to April when the climate is relatively cooler.
4. Is Abu Simbel Tour included in the cost?
The Abu Simbel tour is optional and comes at an additional cost.
5. Are meals included on this tour?
Breakfast is included at all hotels, and all meals are included during the Nile Cruise.
6. Is the tour guide fluent in English?
Yes, all our tour guides are professionally trained and fluent in English.
7. Is it safe to travel to Egypt?
Yes, Egypt is generally safe for travelers, but it's always advisable to follow any travel advisories and local guidelines.