Cappadocia, a magical region in central Turkey, is a dream destination for travelers seeking adventure, culture, and unforgettable experiences. With its unique geological formations, underground cities, and ancient cave dwellings, Cappadocia offers an enchanting setting like no other. One of the most popular and iconic activities in the region is the hot air balloon ride, which provides an unparalleled perspective of the breathtaking landscape. In this Ultimate Guide to Cappadocia Hot Air Balloon Rides, we'll explore everything you need to know to embark on a sky-high adventure of a lifetime.
Why choose a hot air balloon ride in Cappadocia?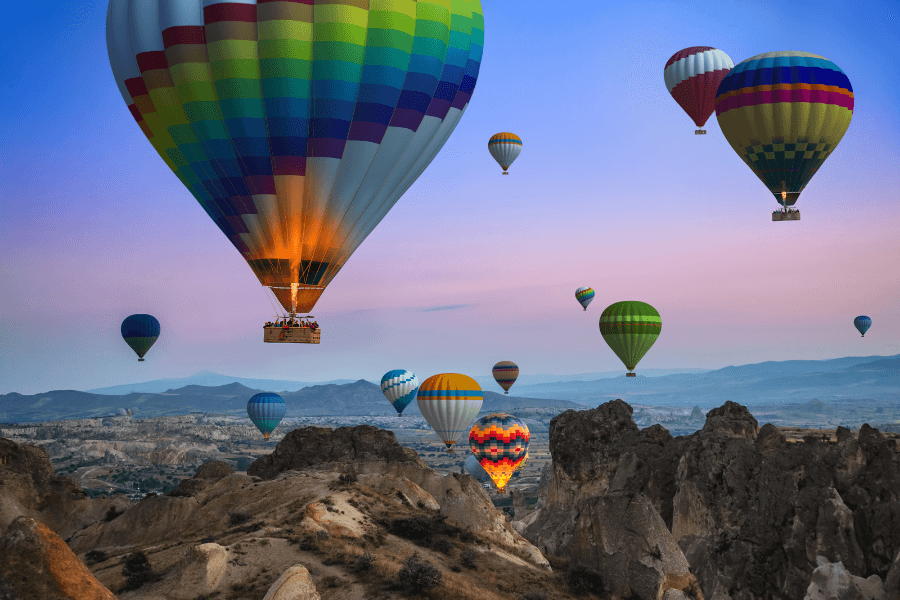 Cappadocia's surreal landscape, formed by volcanic eruptions millions of years ago, is characterized by "fairy chimneys," cave houses, and dramatic rock formations. A hot air balloon ride offers a unique vantage point to take in these sights, allowing you to fully appreciate the beauty and scale of the region. Moreover, floating above the valleys and canyons during sunrise is an experience that will undoubtedly create lasting memories.
When is the best time to go for a hot air balloon ride in Cappadocia?
The hot air balloon season in Cappadocia typically runs from April to October, with the most favorable weather conditions occurring during these months. Although balloon rides are available year-round, they may be subject to cancellation due to poor weather conditions. The spring and fall seasons offer more moderate temperatures and are ideal for enjoying the stunning landscape in full bloom or during the foliage change.
Booking your hot air balloon ride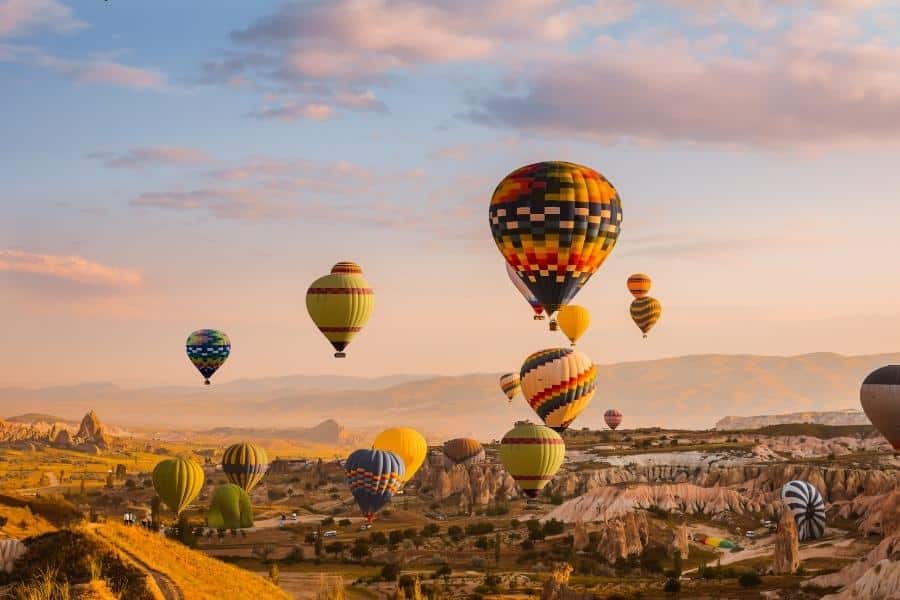 There are numerous hot air balloon operators in Cappadocia, and it is essential to choose a reputable company with experienced pilots and well-maintained equipment. Online reviews, recommendations from hotels or tour agencies, and checking certifications are all helpful ways to ensure you select a reliable operator. Booking your ride in advance is highly recommended, as spaces fill up quickly, especially during peak season. This 2-day Cappadocia tour package, recommended for a memorable experience, includes a hot air balloon ride and roundtrip flight tickets from Istanbul.
What to expect on your hot air balloon ride
Cappadocia hot air balloon rides typically begin early in the morning, just before sunrise. You will be picked up from your accommodation and transported to the launch site. Upon arrival, you will watch the balloons being inflated, followed by a safety briefing from your pilot. Once you're up in the air, the flight usually lasts for about an hour, gently gliding over valleys, rock formations, and fairy chimneys. After landing, you will be treated to a celebratory toast and presented with a flight certificate.
What to wear and bring with you
Since mornings in Cappadocia can be chilly, it's essential to dress in layers. Wear comfortable clothing, and bring a hat and sunglasses to protect yourself from the sun. Closed-toe shoes are recommended, as the terrain can be uneven. Don't forget your camera or smartphone to capture unforgettable views!
Costs and inclusions
The cost of a hot air balloon ride in Cappadocia varies depending on the operator, time of year, and type of flight. Prices usually range from $180 to $360 per person. Most packages include hotel pick-up and drop-off, a light breakfast, a flight certificate, and a celebratory toast. Some operators also offer private flights or exclusive packages with additional amenities.
Tours and Activities in Cappadocia
One Nation Travel offers the 2-Day Cappadocia Tour from Istanbul featuring a Hot-Air Balloon Ride. During this tour, you will enjoy the spectacular views of Cappadocia and have the chance to visit its notable landmarks.
Conclusion:
A hot air balloon ride over Cappadocia's enchanting landscape is an experience that should be on every traveler's bucket list. By following this Ultimate Guide, you can ensure a safe, enjoyable, and unforgettable journey, making memories.