Experience the Magic of Cappadocia: A 2-Day Tour from Istanbul with a Hot Air Balloon Adventure
Embark on an unforgettable journey to the magical land of Cappadocia, a UNESCO World Heritage Site known for its otherworldly landscapes and unique rock formations. This comprehensive 2-day tour from Istanbul includes an incredible hot air balloon ride, offering breathtaking aerial views of this enchanting region. Discover the beauty of Cappadocia's North and South regions, visiting iconic sites and hidden gems along the way.
Day 1: Fly from Istanbul to Kayseri/Nevsehir – North Cappadocia Tour
Begin your adventure with a morning flight from Istanbul to either Kayseri or Nevsehir, two gateway cities to Cappadocia. Upon arrival, you will be greeted by your guide and transferred to the heart of North Cappadocia to start your tour.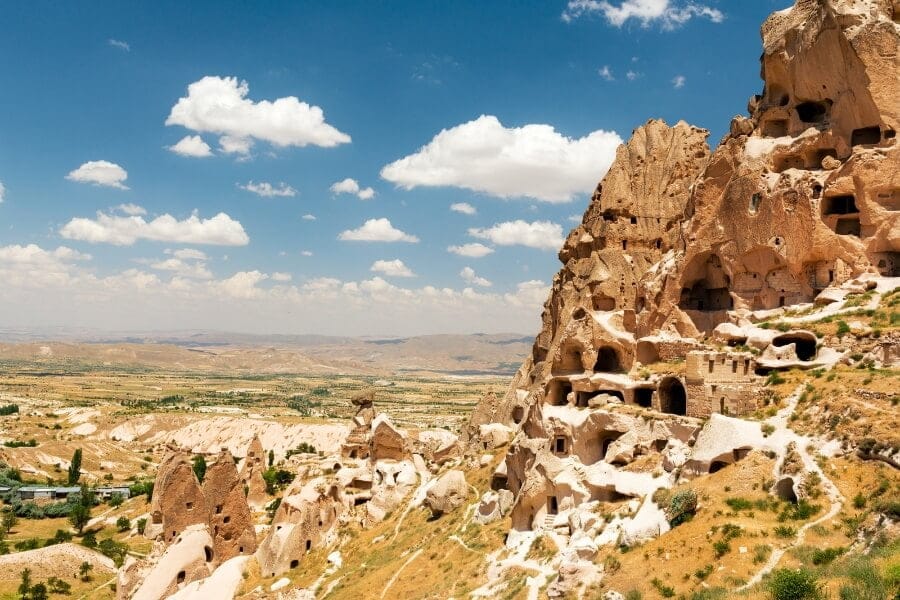 The North Cappadocia Tour includes visits to the following sites:
Devrent Valley: Marvel at the unique rock formations and fairy chimneys that have been sculpted by natural forces over millennia.
Pasabag (Monks Valley): Admire the remarkable mushroom-shaped fairy chimneys and the ancient hermit dwellings carved into the rocks.
Avanos: Visit the traditional pottery workshops of this charming town and learn about the region's rich ceramic history.
Goreme Open Air Museum: Explore this UNESCO-listed site, featuring rock-cut churches, monasteries, and dwellings adorned with well-preserved frescoes.
Uchisar Castle: Conclude your day by visiting the highest point in Cappadocia, offering panoramic views of the surrounding landscapes.
After a full day of exploration, you will be transferred to your hotel for a restful night's sleep, gearing up for another exciting day ahead.
Day 2: South Cappadocia Tour with Hot Air Balloon Excursion – Fly Back to Istanbul
Early Morning 4:40 am: Begin your day with an unforgettable hot air balloon ride over Cappadocia's mesmerizing landscapes. Soar above the region's iconic fairy chimneys, cave dwellings, and vineyards, enjoying unparalleled views of this magical land. After your hot air balloon excursion, you will be dropped off back at your hotel for breakfast and a brief rest.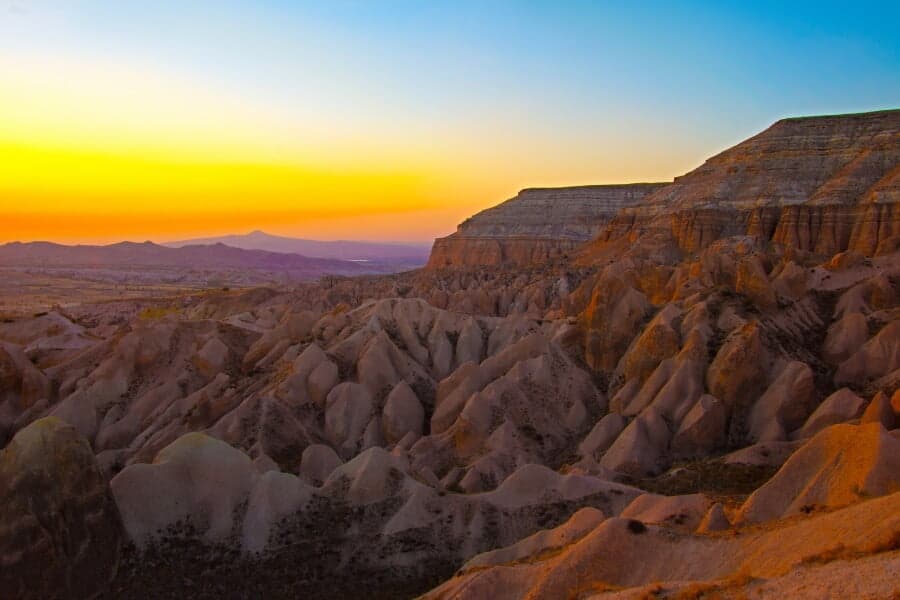 Continue your journey with the South Cappadocia Tour, which includes visits to:
Red Valley: Take a leisurely hike through this stunning valley, known for its vibrant hues and unique rock formations.
Cavusin Village: Discover this ancient village, featuring rock-cut dwellings and a fascinating history dating back thousands of years.
Kaymakli Underground City: Delve into the depths of this subterranean city, exploring its intricate network of tunnels and chambers that once sheltered locals during times of strife.
Pigeon Valley: Conclude your South Cappadocia tour with a visit to this picturesque valley, home to countless dovecotes carved into the rocks.
After a full day of exploration, you will be transferred to the airport for your evening flight back to Istanbul, taking with you memories of an unforgettable journey to one of the world's most enchanting destinations.
Cappadocia: A Journey Beyond Imagination
As you return to Istanbul, you'll undoubtedly feel a sense of awe at the beauty and history you've experienced in Cappadocia. The land of fairy chimneys and cave dwellings will leave a lasting impression, and you'll likely find yourself dreaming of your next visit to this magical destination.
Additional Tips for Your Cappadocia Adventure:
Best Time to Visit: The ideal time to visit Cappadocia is during the spring (April-May) or fall (September-October) months, when temperatures are pleasant, and the landscape is at its most beautiful. Summer months can be scorching, and the winter months can bring snow, making outdoor activities more challenging.
Dress Appropriately: Cappadocia is a conservative region, and it's essential to dress modestly while visiting religious sites like the Goreme Open Air Museum. Additionally, be prepared for temperature fluctuations by packing layers and comfortable footwear for hiking and exploring.
Try Local Cuisine: Don't miss out on the delicious local flavors of Cappadocia. Be sure to try dishes like testi kebab (meat and vegetables cooked in a clay pot), manti (Turkish dumplings), and the regional specialty, pekmez (grape molasses).
Hot Air Balloon Safety: Hot air balloon rides are weather-dependent, and flights may be canceled in the event of unfavorable conditions. Be prepared for the possibility of a rescheduled or canceled flight, and book with a reputable operator to ensure a safe and enjoyable experience.
Extend Your Stay: If you have the time, consider extending your stay in Cappadocia to fully appreciate its beauty and take part in additional activities, such as horseback riding, Cappadocia ATV tours, and visits to local wineries.
In conclusion, a 2-day Cappadocia tour from Istanbul with a hot air balloon excursion offers the perfect opportunity to immerse yourself in the region's enchanting landscapes and rich cultural history. With memories of soaring over fairy chimneys and exploring ancient cave dwellings, you'll leave Cappadocia with a newfound appreciation for the wonders of our world.