The Best Way to See Cappadocia in Two Days
Cappadocia is a historical region located in central Turkey. The region is famous for its unique landscape, which includes rock formations, caves, and underground cities. Cappadocia is also home to a number of ancient ruins, including the city of Hattusa. If you're planning a trip to Turkey and are wondering what to see and do in Cappadocia, look no further! In just two days, you can explore the region's highlights and get a taste of its history and culture.
Cappadocia is a must-see destination in Turkey. This unique landscape is like no other, with its fairy chimneys and rock formations. Here are the top things to see and do in Cappadocia in just two days.
Day 1: Fly from Istanbul to Kayseri/Nevsehir — North Cappadocia Tour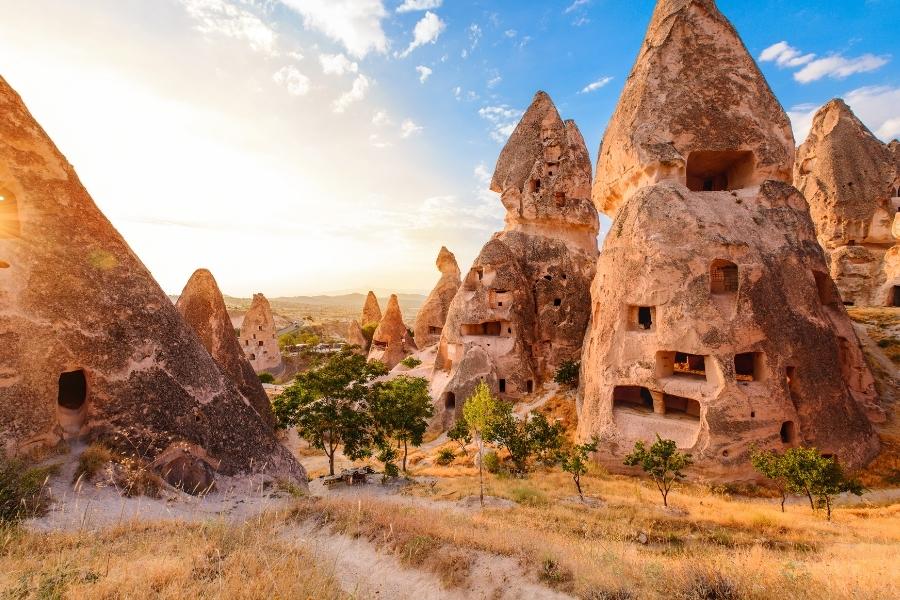 You will be picked up from your hotel in Istanbul around 4:30 am and will be transferred to the domestic airport for your flight from Istanbul to Kayseri or Nevsehir between 6:00 – 7:30 am. Upon arrival at Kayseri or Nevsehir airport, you will be picked up and transferred to Cappadocia. In Cappadocia, you will meet your professional tour guide to begin your full-day tour of North Cappadocia. Your tour will start with a visit to the Devrent Valley to see the unique fairy chimneys. Next, you will visit the Pasabag Monk's Valley to see the mushroom-shaped pinnacles. After this visit, you will drive to the city of Avanos. After lunch, you will visit the beautiful open-air museum of Goreme where the remains of rock-cut churches and Christian settlements date back hundreds of years. Finally towards the end of the day tour before returning to your hotel, you will be able to visit the natural castles of Uchisar. After the tour, you will be transferred to your hotel in Cappadocia for check-in.
Overnight in Cappadocia
Included Meal(s): Lunch
Day 2: South Cappadocia Tour with Hot air balloon — Fly back to Istanbul
Pick-up from the hotel at 5:00 am for the hot air balloon ride. After a hot air balloon ride dropped off back at the hotel around 7:30 am.
After breakfast at the hotel around 9:30 am you will be picked up and met by your tour guide to begin your full-day tour of South Cappadocia. Your tour guide will brief you on the day's activities. Your tour will begin with a visit to the Red Valley where you will be able to explore the famous rock-cut churches and hike approximately 5 km through the Güllüdere (Rose) Valley. Next, you will visit Çavusin village which is famous for its houses and churches of Christian Clergymen. We will take a break for lunch around noon. After lunch, you will drive to the Pigeon Valley. In the afternoon you will visit the Kaymakli or Ozkonak Underground City where early Christians lived. This will be the end of your full-day tour.
At the end of the tour around approximately 4:00 pm, you will be transferred to Kayseri or Nevsehir airport for your late evening return flight around 7:00 – 10:00 pm (1 hour 20 minutes flight duration) to Istanbul. END OF OUR SERVICE and TOURS.
Included Meal(s): Breakfast and Lunch
Accommodation: No accommodation is included on this day.
Important notes:
Please note that your return flight from Kayseri / Nevsehir to Istanbul will arrive at either the New Airport in Istanbul or at the Sabiha Gökçen Airport depending on the availability of flights on the ticket purchase date.
If you have a preference to return to a specific airport in Istanbul i.e. Sabiha Gokcen or Istanbul New Airport, you must request your choice of the airport in Istanbul by email prior to your tour booking. Any changes requested once your booking is confirmed will incur an additional cost.
Upon arrival at Istanbul airport, you will have to arrange your own pick-up service from Istanbul airport to your hotel in Istanbul. This transfer is not included as part of your package tour services with us. Our service ends upon your flight arrival at Istanbul Airport.
INCLUDED in the Tour Price:
Pick up from Istanbul hotel and transfer to Istanbul Airport (on the European side of Istanbul only)
Domestic flight tickets from Istanbul to Kayseri or Nevsehir and from Kayseri or Nevsehir to Istanbul only
1 night in Cappadocia at a cave hotel including breakfast
Hot-air balloon flight
Professional licensed English-speaking guide during the tours
Meals as mentioned in the itinerary: (B) Breakfast, (L) Lunch
Entrance fees mentioned by the itinerary
Local taxes and service charges
NOT INCLUDED:
Drop off transportation service from Istanbul New Airport OR Sabiha Gökçen Airport to Istanbul Hotel upon returning to Istanbul
Tips to staff, items of a personal nature
Drinks with meals (except the drinks served with breakfast)
Travel Insurance
In conclusion, experiencing the best of Cappadocia in just two days is entirely possible with careful planning and the right guidance. One Nation Travel offers exceptional Cappadocia tours from Istanbul, ensuring you make the most of your limited time in this enchanting region. From mesmerizing hot air balloon rides to exploring underground cities and ancient cave dwellings, Cappadocia promises a truly unforgettable adventure. So, don't hesitate to embark on a whirlwind journey through Turkey's magical landscape and create memories that will last a lifetime.