Unforgettable Turkey: A 7-Day Itinerary for an Enchanting Vacation
Turkey, a fascinating country with a rich history and vibrant culture, offers something for every traveler. From bustling cities to ancient ruins, Turkey promises an unforgettable trip. In this blog post, we'll take you on a 7-day whirlwind tour, highlighting the must-see destinations and experiences that will leave you wanting more.
Day 1: Arrival in Istanbul
Touch down in Istanbul, the gateway to Turkey, and prepare for an exciting journey. After checking into your hotel, spend the evening exploring the city's bustling streets and indulging in delicious Turkish cuisine.
Day 2: Istanbul Old City Tour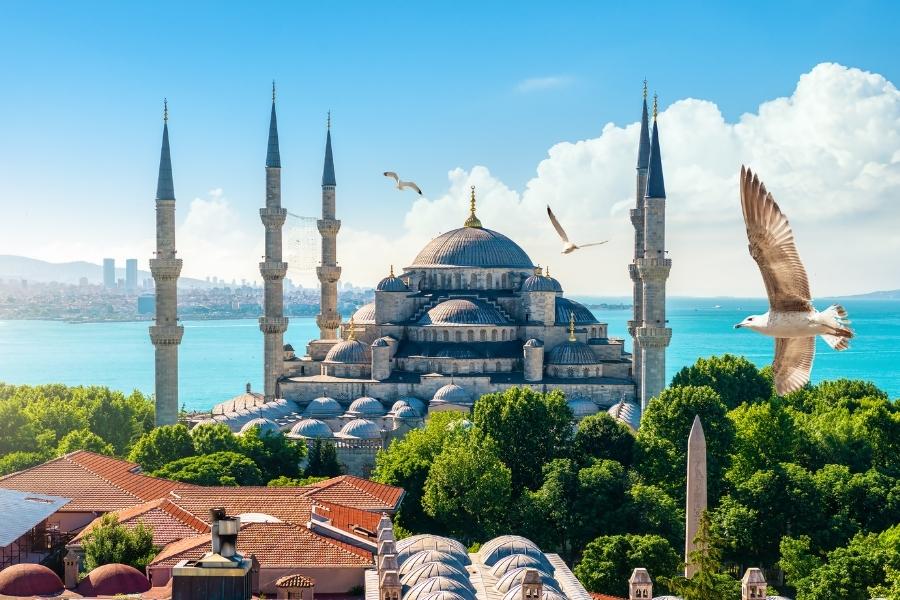 Begin your day with a visit to the iconic Hagia Sophia, a stunning example of Byzantine and Ottoman architecture. Next, explore the Blue Mosque, known for its beautiful blue Iznik tiles, and the Topkapi Palace, the former residence of Ottoman sultans. Finish the day with a trip to the bustling Grand Bazaar, where you can shop for souvenirs and sample local delicacies.
Day 3: Fly to Kayseri from Istanbul – North Cappadocia Tour
Catch a morning flight to Kayseri or Nevsehir and head straight to the magical region of Cappadocia. Begin with a visit to the Goreme Open Air Museum, a UNESCO World Heritage site featuring ancient rock-cut churches and monasteries. Afterward, explore the fairy chimneys and unique cave dwellings in Pasabag and Devrent valleys.
Day 4: South Cappadocia Tour – Fly to Izmir
Optional Extra: Start your day with a hot air balloon ride, taking in breathtaking aerial views of the valleys below (additional cost applies). Continue your tour by visiting the underground city of Kaymakli, Derinkuyu, or Ozkonak. Discover the fascinating history of these subterranean settlements before heading to Uchisar Castle for panoramic views of the region. Later, fly to Izmir and rest up for the next day's adventure.
Day 5: Pamukkale & Hierapolis Tour
From Izmir, take a day trip to Pamukkale, famous for its otherworldly travertine terraces and hot springs. Explore the ancient city of Hierapolis, with its well-preserved ruins, theater, and famous Cleopatra's Pool. Marvel at the stunning landscape and learn about the history of this fascinating region before returning to Izmir for the night.
Day 6: Ephesus Tour – Fly back to Istanbul
Visit the ancient city of Ephesus, home to the Temple of Artemis, one of the Seven Wonders of the Ancient World. Wander through the well-preserved ruins, including the Library of Celsus, the Great Theater, and the Temple of Hadrian. After your tour, fly back to Istanbul and spend your final evening soaking up the city's atmosphere.
Day 7: Departure from Istanbul
Bid farewell to Turkey as you prepare to depart from Istanbul. Reflect on the incredible experiences and memories you've made during your 7-day Turkish adventure, and start planning your return trip!
Conclusion:
Turkey offers an unparalleled combination of history, culture, and natural beauty. With this 7-day Turkey itinerary, you'll discover the country's must-see destinations and create memories that will last a lifetime. Don't forget to try the delicious local cuisine, and immerse yourself in the rich and diverse Turkish culture throughout your journey.