Cappadocia, a region in central Turkey, is a destination that never fails to enchant its visitors. Known for its fairy chimneys, underground cities, and unique cave hotels, this otherworldly landscape has a lot to offer travelers seeking a one-of-a-kind experience. Deciding on the best time to visit Cappadocia is crucial to making the most out of your trip. In this blog post, we will guide you through the various seasons and factors to consider when planning your visit to this magical land. Discover the selection of daily tours in Cappadocia, meticulously organized by One Nation Travel.
Spring (March to May): Blooming Beauty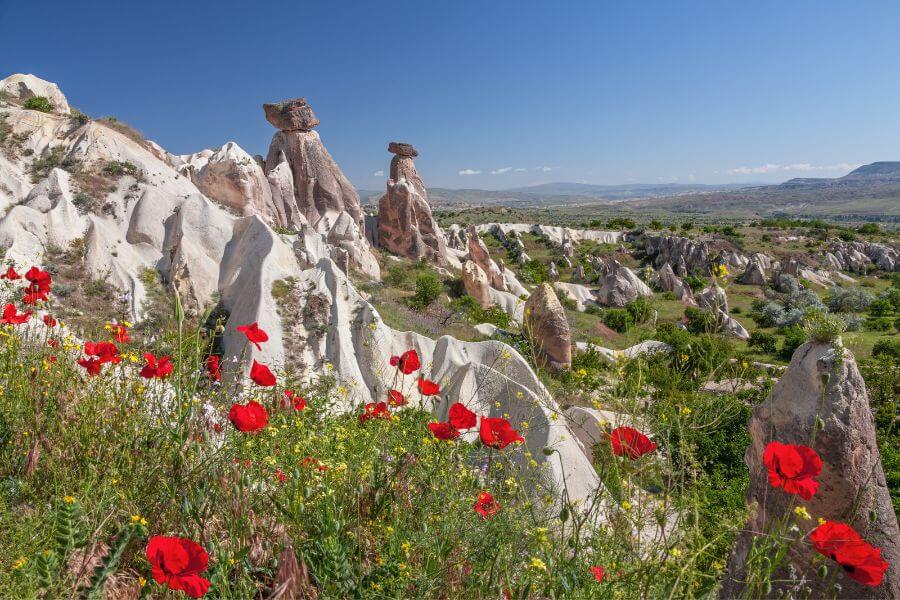 Spring is often considered the best time to visit Cappadocia, as the weather is mild, and the region comes alive with vibrant colors. The temperature ranges from 10°C (50°F) to 20°C (68°F) during this time, making it perfect for outdoor activities such as hiking and hot air ballooning. The blossoming flowers and greenery create a stunning contrast against the rocky landscape, providing excellent photo opportunities.
Pros:
Mild temperatures
Lush greenery and blooming flowers
Perfect for hiking and hot air ballooning
Cons:
Can be crowded, especially during Easter break and national holidays
Summer (June to August): Warm Days and Starry Nights
Summer in Cappadocia brings long, warm days and clear skies, perfect for exploring the region's underground cities and cave churches. The temperature can reach up to 30°C (86°F), which may not be ideal for some travelers. However, the nights are cooler, making it comfortable to enjoy the region's stunning night skies. This is also the peak season for hot air ballooning but be prepared for larger crowds and higher prices.
Pros:
Long, warm days perfect for exploring
Clear skies for stargazing
The peak season for hot air ballooning
Cons:
Higher temperatures may be uncomfortable for some
Crowded and higher prices
Autumn (September to November): A Kaleidoscope of Colors
Autumn is another ideal time to visit Cappadocia, as the temperature cools down and the landscape transforms into a palette of warm hues. The average temperature ranges between 15°C (59°F) and 25°C (77°F), making it comfortable for outdoor activities. The changing foliage provides a striking backdrop for photography, and the region is less crowded compared to the spring and summer months.
Pros:
Comfortable temperatures
Beautiful fall colors
Less crowded than in spring and summer
Cons:
Weather can be unpredictable, with occasional rain.
Winter (December to February): Snowy Wonderland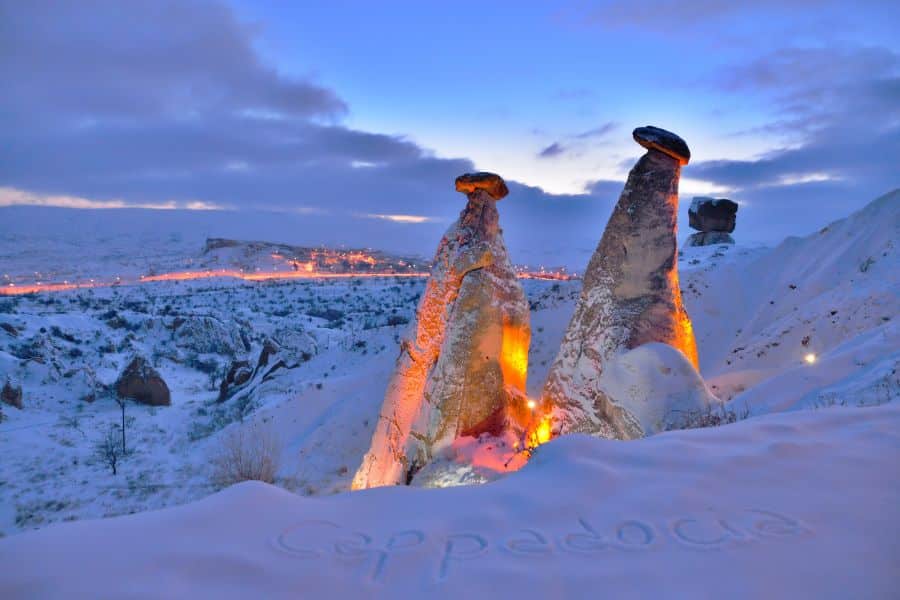 Winter in Cappadocia offers a unique experience for those who don't mind the cold. The fairy chimneys and cave dwellings covered in snow create a dreamy, almost surreal landscape. The average temperature during this time ranges from -5°C (23°F) to 5°C (41°F), and while hot air ballooning may not be possible, you can enjoy skiing and other winter sports in nearby ski resorts.
Pros:
Snow-covered fairy chimneys and cave dwellings
Unique winter experience
Skiing and winter sports are available nearby
Cons:
Cold temperatures
Limited hot air ballooning opportunities
Conclusion:
Selecting the ideal time to visit Cappadocia is a personal choice based on your interests and preferences. Spring and autumn boast comfortable weather and captivating scenery, while summer offers extended daylight for adventures and perfect stargazing conditions. Winter, on the other hand, presents a one-of-a-kind, snow-draped experience. Regardless of when you decide to explore, Cappadocia's charm and beauty will undoubtedly create unforgettable memories.
FAQs
What is the best time to visit Cappadocia for hot air balloon rides?

The best time for hot air balloon rides in Cappadocia is during the spring and fall seasons when the weather is favorable, and the skies are clear. However, it's important to book in advance, regardless of the season.

Are there any specific precautions to take during hot air balloon rides?

Hot air balloon rides are generally safe, but it's important to follow the instructions provided by the balloon operators and ensure that the company you choose has a good safety record.

Can I visit Cappadocia in winter?

Yes, Cappadocia can be visited in winter. While it can be cold, the region takes on a magical atmosphere with snow-covered landscapes and fewer crowds. Just make sure to pack warm clothing.

Are there any hiking trails in Cappadocia?

Yes, Cappadocia offers several hiking trails that allow you to explore its unique landscapes and discover hidden gems. Some popular trails include the Rose Valley, Pigeon Valley, and Love Valley.

How far in advance should I book accommodations in Cappadocia?

It's recommended to book accommodations in Cappadocia as early as possible, especially during the high season. This ensures you have a wider choice and can secure the best rates.