The Perfect Time to Experience Istanbul: A Comprehensive Guide
Istanbul, the enchanting city where East meets West, is a perfect blend of ancient history, modernity, and natural beauty. With its rich cultural heritage, stunning architecture, and mouthwatering cuisine, Istanbul is a must-visit destination for any traveler. However, with its diverse climate and plethora of events throughout the year, it's essential to know the best times to visit Istanbul. This blog post will explore the ideal seasons, weather conditions, and events to help you plan your perfect Istanbul getaway. Discover the captivating Istanbul tour packages available from One Nation Travel and seize the opportunity to benefit from their online deals for a memorable and affordable trip.
Spring (April – May)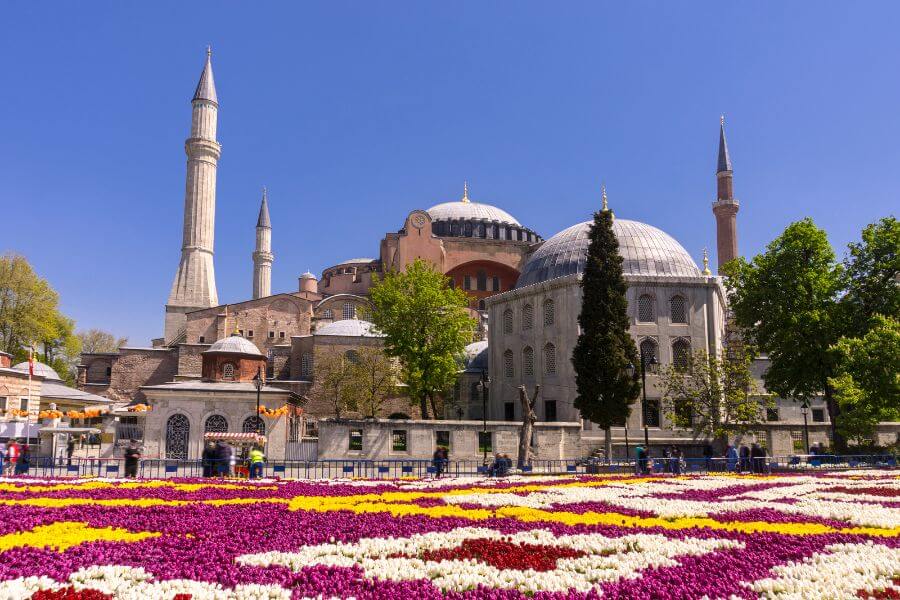 Spring is a magical time to visit Istanbul. The weather is typically mild and pleasant, with average temperatures ranging from 12°C (54°F) to 20°C (68°F). The city blooms with vibrant colors as tulips, daffodils, and hyacinths cover parks and gardens.
During the annual Istanbul Tulip Festival in April, you can witness a mesmerizing display of over 30 million tulips in various parks and gardens. Be sure to visit Emirgan Park and Gulhane Park to see the best tulip arrangements.
Autumn (September – November)
Autumn is another fantastic time to visit Istanbul, with the city's weather cooling down after the hot summer months. Average temperatures range from 14°C (57°F) to 24°C (75°F). The city's green spaces are covered in a gorgeous array of red, orange, and yellow foliage.
Film lovers will appreciate the Istanbul International Film Festival, held in October, where you can catch a variety of local and international films. The Akbank Jazz Festival in October showcases local and international jazz musicians in a series of concerts and workshops across the city.
Winter (December – February)
While winter in Istanbul can be cold and rainy, with average temperatures ranging from 3°C (37°F) to 11°C (52°F), it's also the least crowded time of year. This means fewer lines at major attractions like the Hagia Sophia, Blue Mosque, and Topkapi Palace.
In December, the city comes alive with festive lights, decorations, and Christmas markets. The New Year's Eve celebrations in Taksim Square and along the Bosphorus are not to be missed. And if you're lucky, you might even experience a rare snowfall in the city.
Summer (June – August)
Summer in Istanbul can be hot and humid, with average temperatures ranging from 19°C (66°F) to 28°C (82°F). However, if you're a fan of outdoor activities and events, it's a great time to visit.
During summer, Istanbul hosts several music festivals, such as the Istanbul Music Festival and Rock'n Coke, featuring a mix of classical, rock, and alternative music. You can also enjoy a sunset cruise along the Bosphorus or take a day trip to the nearby Princes' Islands to escape the city's hustle and bustle.
Conclusion:
The best times to visit Istanbul are during the spring and autumn months, when the weather is pleasant, and the city is adorned with colorful blooms or autumn leaves. However, each season offers unique experiences and events that cater to various interests. Plan your visit according to your preferences and make the most of your time in this captivating city.