The Timeless Allure of Egypt
Have you ever found yourself daydreaming about exploring ancient civilizations, immersing yourself in a rich and diverse culture, or basking in the warm sun on a pristine beach? If so, there's no better time than the present to visit Egypt. The land of the pharaohs is calling, and in this article, we'll reveal five compelling reasons why you should heed the call and make Egypt your next travel destination this year.
1. Unrivaled Historical and Archaeological Treasures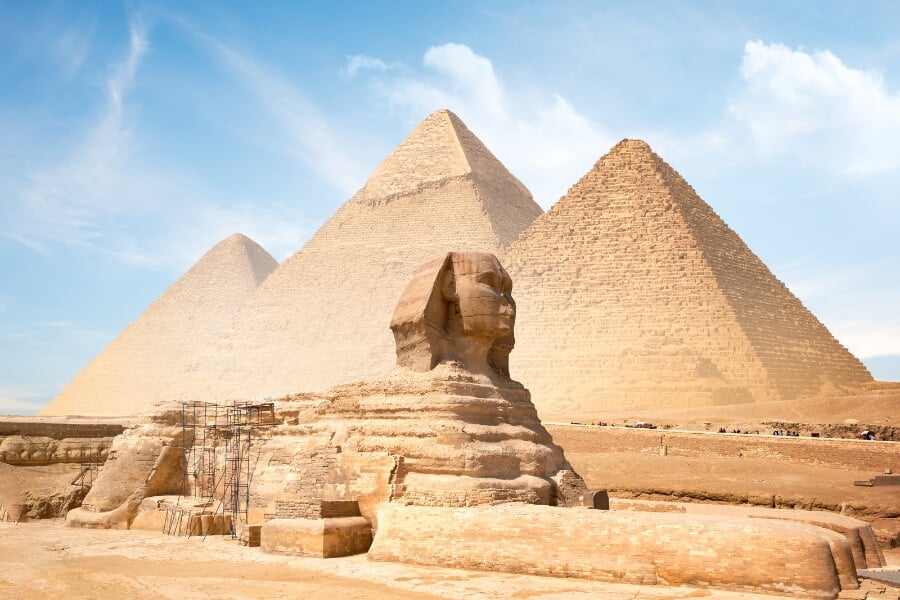 When you think of Egypt, it's hard not to picture the iconic Pyramids of Giza and the Sphinx. But the truth is, these wonders are just the tip of the iceberg. Egypt is home to countless archaeological sites, ancient temples, and tombs that will leave you in awe. Discover the Valley of the Kings in Luxor, where the tomb of Tutankhamun was uncovered, or explore the temples of Karnak and Abu Simbel. Can you imagine walking in the footsteps of the pharaohs and uncovering their secrets?
2. The Rich and Vibrant Culture
Egypt's culture is as diverse and fascinating as its history. From traditional music and dance to mouthwatering cuisine, there's so much to experience. Try a plate of koshary, a delicious mix of rice, pasta, lentils, and tomato sauce, or savor the taste of stuffed vine leaves called mahshi. Don't forget to explore the bustling markets, like Cairo's Khan el-Khalili, where you can buy everything from spices to handcrafted jewelry. How can you resist the allure of this enchanting cultural experience?
3. Unforgettable Nile Cruises
When in Egypt, you simply can't miss the opportunity to sail the legendary Nile River. A Nile cruise is the perfect way to witness the country's beauty and history while relaxing in style. You'll pass by ancient temples and rural villages, as well as have the chance to visit the awe-inspiring temples of Luxor and Aswan. Picture yourself sipping a refreshing drink on the deck, the warm breeze on your face, and the gentle rhythm of the Nile beneath you. Doesn't that sound like the ultimate travel experience?
4. Pristine Beaches and World-Class Diving
Egypt isn't just about ancient history and culture; it also boasts some of the world's most beautiful beaches and diving spots. The Red Sea coastline is a haven for sun-seekers and water sports enthusiasts alike. Dive into the crystal-clear waters and explore colorful coral reefs teeming with marine life at locations like Sharm El Sheikh and Hurghada. After a day of underwater adventure, unwind on the powdery white sands and soak up the sun. What better way to relax and recharge?
5. A Warm and Welcoming People
Last but certainly not least, one of the best reasons to visit Egypt is its people. Egyptians are renowned for their warmth and hospitality, always ready to welcome visitors with open arms. From friendly locals eager to share their stories and knowledge to skilled guides who bring history to life, you'll feel right at home in this fascinating country. And who knows, you might even make some lifelong friends along the way.
One Nation Travel: Your Gateway to Egypt's Wonders
In conclusion, there's no better way to experience Egypt's captivating history and natural beauty than with One Nation Travel. This esteemed travel agency offers a wide range of Egypt tours tailored to suit every interest and budget. Whether you're eager to delve into Egypt's fascinating past, immerse yourself in its vibrant culture, or simply relax on its pristine beaches, One Nation Travel is your ticket to an unforgettable adventure. So, don't hesitate – to join One Nation Travel and create lasting memories as you explore the enchanting wonders of Egypt.