Introduction to Cappadocia
The Magic of Cappadocia
Cappadocia, a semi-arid region in central Turkey, is known for its distinctive "fairy chimneys," tall, cone-shaped rock formations clustered in Monks Valley and elsewhere. But what makes Cappadocia truly magical is not just its unique geological, historic, and cultural features. It's the way these elements come together to create an otherworldly landscape that's unlike anything you've ever seen.
How to Get to Cappadocia from Istanbul
Getting to Cappadocia from Istanbul is a journey in itself. You can take a flight, a bus, or even a car. But the most popular and convenient way is to take a tour. This way, you can sit back, relax, and enjoy the ride while your tour guide takes care of all the details.
Exploring Cappadocia
Hot Air Balloon Rides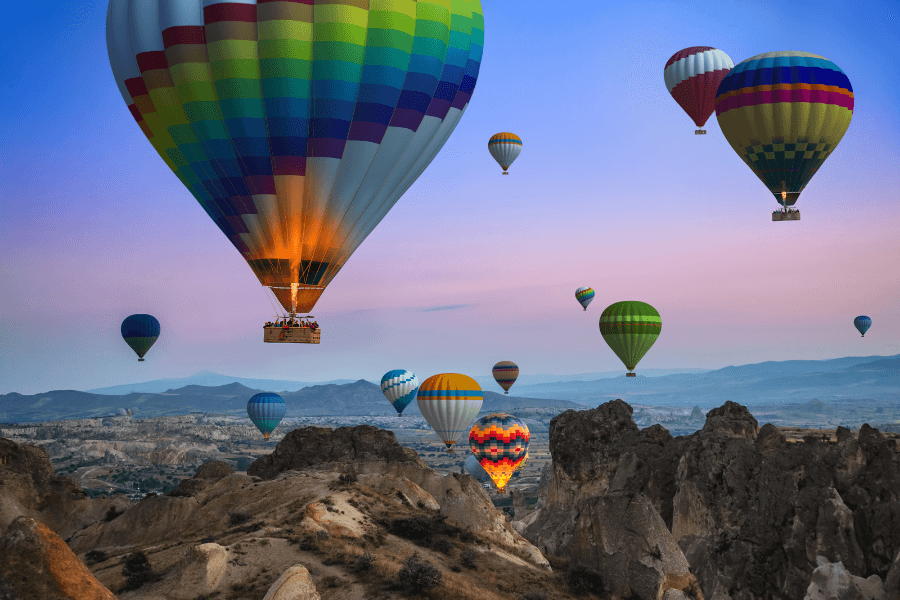 One of the most popular activities in Cappadocia is hot air ballooning. As you float above the surreal landscape, you'll get a bird's-eye view of the fairy chimneys, ancient cave dwellings, and beautiful valleys. It's an experience that's as breathtaking as it is unforgettable.
Fairy Chimneys and Underground Cities
Cappadocia is famous for its fairy chimneys and underground cities. These natural and man-made wonders are a testament to the region's rich history and the ingenuity of its past inhabitants. A tour of these sites is like stepping back in time.
Zelve Open Air Museum
The Zelve Open Air Museum, once a monastic retreat in the 9th century, is a must-visit. Here, you'll find a complex of carved-out churches, monastic cells, and dwellings that bear witness to the area's rich past.
The Unique Cuisine of Cappadocia
Don't leave Cappadocia without trying its unique cuisine. From the local wine to the testi kebab (a meat and vegetable dish cooked in a clay pot), the food here is as distinctive as the landscape.
Choosing the Right Tour
Day Tours
Day tours are a great option if you're short on time. They typically include transportation, a guide, and visits to the main attractions.
Multi-Day Tours
If you have more time, consider a multi-day tour. These tours allow you to explore Cappadocia at a more leisurely pace and often include accommodation and meals.
Customized Tours
For a more personalized experience, you can opt for a customized tour. These tours can be tailored to your interests and preferences, whether you're a history buff, a foodie, or an adventure seeker.
Tips for Touring Cappadocia
Best Time to Visit
The best time to visit Cappadocia depends on what you want to do. If you're planning on taking a hot air balloon ride, the best months are April through October when the weather is most favorable.
What to Pack
When packing for your trip, keep in mind that Cappadocia has a semi-arid climate. This means hot, dry summers and cold, snowy winters. Be sure to pack appropriate clothing and footwear for the season.
Local Customs and Etiquette
Turkish people are known for their hospitality. When interacting with locals, it's important to be respectful and mindful of their customs and etiquette. This includes dressing modestly, especially when visiting religious sites.
Conclusion
Cappadocia is a place like no other. With its unique landscape, rich history, and vibrant culture, it's a destination that's sure to leave a lasting impression. Whether you're taking a day tour or a multi-day tour, traveling from Istanbul to Cappadocia is a journey worth taking.
FAQs
What is the distance from Istanbul to Cappadocia?
The distance from Istanbul to Cappadocia is approximately 730 kilometers or 454 miles.
How long does it take to get from Istanbul to Cappadocia by bus?
It takes about 10-12 hours to get from Istanbul to Cappadocia by bus.
What are some other attractions in Cappadocia?
Other attractions in Cappadocia include the Ihlara Valley, the Uchisar Castle, and the Derinkuyu Underground City.
Is it safe to travel to Cappadocia?
Yes, Cappadocia is generally safe for travelers. However, like any travel destination, it's important to take precautions and stay informed about current conditions.
Can I stay in a cave hotel in Cappadocia?
Yes, one of the unique experiences in Cappadocia is staying in a cave hotel. These hotels offer modern comforts while preserving the region's traditional architecture.