Embark on a Mesmerizing Journey: Discover Turkey's Cultural Treasures in a Week
Turkey – a land where the East meets the West, and cultures collide, is undoubtedly one of the most mesmerizing countries to visit. Our ultimate 7-day Turkey itinerary will allow you to explore the rich history, diverse culture, and unique landscapes that this captivating country has to offer. Let's embark on this journey together.
Day 1: Arrival in Istanbul, Turkey – The Beginning of an Enthralling Adventure
A city that straddles two continents, Istanbul welcomes you with its majestic skyline dominated by historical mosques and modern skyscrapers alike. As you land in Istanbul, brace yourself for an enthralling exploration of a city that exudes an irresistible charm with its buzzing bazaars, glorious past, and scrumptious food.
Landing in Istanbul: The Unfolding of a Magical Tale
Upon your arrival, you might want to rest and refresh at your hotel before starting your journey. Our 7-day Turkey itinerary kicks off with you exploring Istanbul at your own pace. Consider taking a relaxing stroll along the Bosphorus, the strait that separates Europe and Asia. The waterfront is dotted with quaint tea houses, seafood restaurants, and ancient wooden mansions.
Welcome Dinner: First Tryst with Turkish Cuisine
To round off your day, partake in a traditional Turkish dinner at a local eatery. Let the delicious flavors of dishes like Baklava, Kebab, and Meze tantalize your taste buds, and prepare you for the gastronomical journey that lies ahead.
Day 2: Istanbul Old City Tour – Diving Into Centuries of History
Dive deep into history on your second day, exploring the old city of Istanbul, where every corner echoes with stories of a bygone era.
The Blue Mosque: An Architectural Marvel
Begin your exploration with the Blue Mosque, an iconic Istanbul landmark. Admire the stunning Iznik tiles that give the mosque its name and marvel at its six minarets touching the sky.
Hagia Sophia: Where History Stands Tall
A short walk away is Hagia Sophia, a magnificent structure that has served as an Orthodox Cathedral, a Mosque, and is now a museum. Here, Christian mosaics coexist with Islamic calligraphy, embodying the city's multicultural heritage.
Topkapi Palace: Living the Ottoman Splendor
Round off your Istanbul Old City tour with a visit to Topkapi Palace, the former residence of the Ottoman Sultans. Explore the lavishly decorated rooms, peek into the world of royal harems, and be mesmerized by the palace's stunning views over the Bosphorus.
Day 3: Fly to Denizli – Pamukkale Tour – Overnight stay in Kusadasi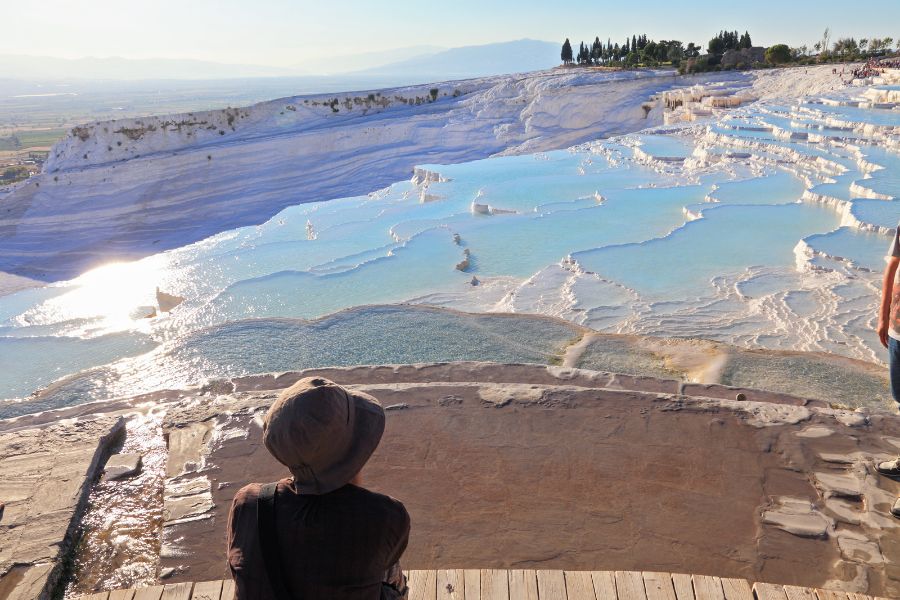 Your third day starts early with a flight to Denizli, followed by an enchanting visit to Pamukkale, a natural wonder, before ending the day in the coastal town of Kusadasi.
Pamukkale: The Cotton Castle
Explore Pamukkale, also known as "Cotton Castle," famous for its white calcium terraces filled with warm thermal water. Visit the ancient city of Hierapolis located atop Pamukkale and bathe in its healing thermal waters.
Overnight in Kusadasi: A Blend of Beaches and Bazaars
After a day of exploration, drive to Kusadasi. Indulge in some shopping at the local bazaars or simply relax at one of the town's beautiful beaches as you prepare for the adventures that await the next day.
Day 4: Ephesus Tour – Fly to Kayseri/Nevsehir from Izmir
Dive into the pages of history with a visit to Ephesus, followed by a flight to Kayseri/Nevsehir, preparing for your Cappadocian adventure.
Ephesus: Walking Through an Ancient City
Explore the ancient city of Ephesus, a testament to Greek and Roman grandeur. Visit the Library of Celsus, the Amphitheatre, and the Temple of Artemis, and feel the pulse of a city that was once a bustling metropolis.
Journey to Cappadocia: Land of Fairy Chimneys
Post your Ephesus tour, fly to Kayseri/Nevsehir, your gateway to the surreal landscape of Cappadocia. Upon arrival, rest up and dream about the magical landscape that awaits.
Day 5: North Cappadocia Tour – A Surreal Landscape
Your fifth day in Turkey is reserved for a North Cappadocia tour, where fairy chimneys, underground cities, and rock-hewn churches will leave you spellbound.
Zelve Open Air Museum: A Window into the Past
Kickstart your North Cappadocia tour with a visit to the Zelve Open Air Museum. The area, once a monastic retreat, offers a unique insight into the region's ancient monastic life. Marvel at the rock-cut churches and dwellings, and experience the echoes of a civilization that thrived here centuries ago.
Pasabag and Devrent Valley: Nature's Wonders
Head towards Pasabag, also known as Monks Valley, and Devrent Valley, each boasting unique fairy chimneys, sculpted by the elements over centuries. The natural beauty and the tranquility of these valleys will undoubtedly take your breath away.
Day 6: South Cappadocia Tour – Fly back to Istanbul
On the penultimate day of our 7-day Turkey itinerary, discover the otherworldly beauty of South Cappadocia before catching a flight back to Istanbul.
Kaymakli Underground City: A Journey into the Depths
Visit Kaymakli Underground City, one of the many underground cities in Cappadocia, built to shelter residents during times of conflict. Wander through its maze-like corridors and discover the ingenious architectural skills of ancient civilizations.
Ihlara Valley: A Picturesque Hike
Next, explore the Ihlara Valley, a deep gorge carved by the Melendiz River. Embark on a scenic hike along the river, and be awestruck by the rock-carved churches and monasteries dotted along the trail.
Day 7: Departure from Istanbul – End of Tour Service
As our 7-day Turkey itinerary draws to an end, bid adieu to this beautiful country, taking back a bag full of memories and experiences that will last a lifetime.
Farewell to Turkey: The Journey Ends
Before your flight, make sure to do some last-minute shopping in Istanbul's Grand Bazaar, pick up souvenirs, or just soak in the city's unique vibe for one last time.
FAQs
Is Turkey safe to visit?
Yes, Turkey is considered generally safe for tourists. However, like any travel destination, it's always a good idea to stay aware of your surroundings and adhere to local laws.
What is the best time to visit Turkey?
The best time to visit Turkey is during the spring (April to June) and fall (September to November) when the weather is pleasant.
Do I need a visa to visit Turkey?
Depending on your nationality, you may need a visa to enter Turkey. It is advised to check the official Turkish government website for the most accurate and up-to-date information.
What currency is used in Turkey?
The official currency of Turkey is the Turkish Lira (TRY).
Is English widely spoken in Turkey?
English is not widely spoken outside of major tourist areas and big cities. However, people in the tourism industry usually speak English.
Can I drink tap water in Turkey?
Although tap water is chlorinated in Turkey, it's recommended to drink bottled water to avoid any potential health risks.
Conclusion
Our ultimate 7-day Turkey itinerary promises a perfect blend of history, culture, and nature, catering to the explorer in you. From the bustling city of Istanbul to the unique landscapes of Cappadocia, every stop will leave you in awe of Turkey's rich heritage and breathtaking beauty. So why wait? Embark on this journey and let Turkey weave its magic around you!